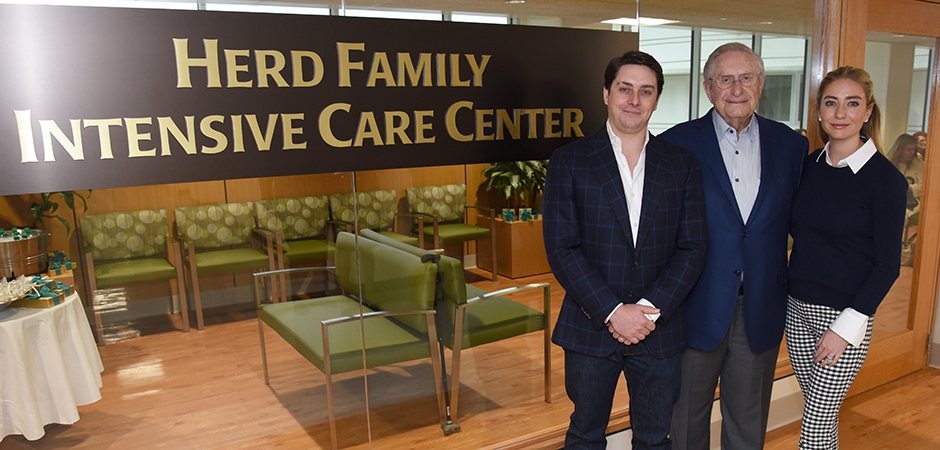 Contact: Rebecca Berkley
UT Health East Texas Tyler
Director of Public Relations
(903) 596-3763
rberkley@etmc.org
Herd family gift supports critical care patients and families
Tyler, TX (March 8, 2018) As ETMC prepared to transition to UT Health East Texas, the Bob L. Herd family bestowed a generous donation to the hospital's Level 1 trauma center that helped save the life of their family member.
Michael Herd, Bob Herd's grandson, was treated in UT Health Tyler's Level 1 Trauma center and trauma ICU following injuries from an accident in March 2017. Prompted by their family's journey, the Herd's graciously donated funds to create two new waiting rooms for intensive care patient families to find respite and solace.
At the dedication ceremony, Michael Herd thanked neurosurgeon Dr. Paul Detwiler and other members of the care team for saving his life. The Herd Family Intensive Care Center encompasses areas on the second and third floors of UT Health Tyler adjacent to the intensive care "circle" units.
The large waiting rooms provide natural sunlight and soothing colors to support a healing environment. Small details were considered to further support those individuals who have loved ones in the critical care units, including access to complimentary coffee, Wi-Fi, and phone charging stations. In addition, the area includes private consultation rooms for families to meet with health professionals including physicians, clergy and staff.
When asked about the last major gift given to the hospital under his leadership, former President/CEO of the ETMC Regional Healthcare System, Elmer G. Ellis said, "As a hospital specializing in trauma, neurosurgery and other complex specialties, we know that care also must be extended to the families who are here with their patients. It is a journey—of hope and healing—that the entire family makes together."
The two family intensive care waiting areas were formally dedicated on February 28. Marty Wiggins, former director of the ETMC Foundation, noted that the dedication event illustrated how gratitude causes a ripple effect, as the Herd's generous gift now becomes a blessing to others. "It's the best of philanthropy," she said, "as one family's experience of grace leads them to help countless others during times of medical crisis."
About UT Health East Texas
Formed in 2018 through the combination of East Texas Medical Center Regional Healthcare System (ETMC) and The University of Texas Health Science Center at Tyler (UT Health Northeast), UT Health East Texas provides care to thousands of patients each year through an extensive regional network that includes 10 hospitals, more than 50 physician clinics, the Olympic Plaza Tower, 13 regional rehabilitation facilities, two freestanding emergency centers, regional home health services covering 41 counties, an EMS fleet of more than 45 ambulances and four helicopters, and a comprehensive seven-trauma center care network, including a Level 1.
As a partner with The University of Texas System, UT Health East Texas is uniquely positioned to provide patients with access to leading-edge research and clinical therapies while training and educating the next generation of physicians and other health professionals. The nationally recognized UT System also includes UT MD Anderson Cancer Center in Houston, UT Southwestern Medical Center in Dallas, as well as three other major university medical centers located throughout the state.
###