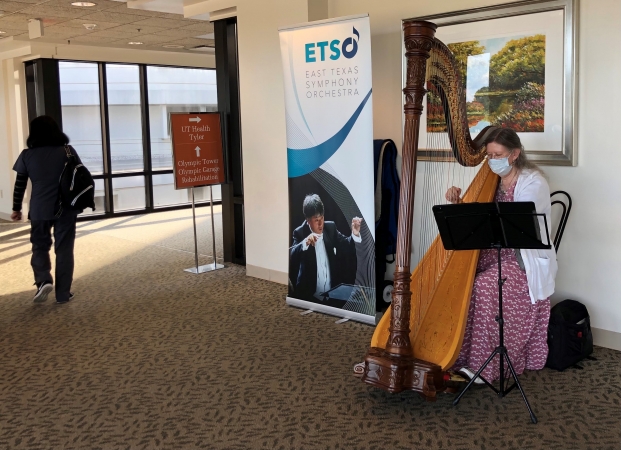 Tyler, Texas (June 11, 2021) — Janice Reid was just coming onto her shift as a nursing assistant when she saw the harp in the second floor skywalk of UT Health Tyler.    
"I've waited all my life for this, to get close to this instrument," Reid said as she captured video on her phone. "I have always been fascinated with this instrument since I was a small child, the looks, the sound, everything about it. It made my day, it created a sense of serenity and peace and joy and fulfillment."
From 6:30 to 7:30 p.m. Thursday, East Texas Symphony Orchestra musician Janel Hector played the harp on the UT Health Tyler skywalk for caregivers during shift change as a way to give back to those who have given so much of themselves this past year.
"It is a small gesture, but small gestures add up and we certainly hope that even for a brief second the music brings a smile to the face of a doctor or nurse passing by," said Richard Lee, music director of the East Texas Symphony Orchestra. "If so, then we have done our job."
Debbie Jones said the live music was a wonderful surprise as she left her shift as a respiratory therapist.
"I'm leaving after 13 hours and this is just so peaceful," Jones said. "When I heard it, I just have no words for this because it's great. Being right here, it's just so wonderful for people coming and going."
UT Health Tyler CEO Vicki Briggs said such gestures continue to lift the spirts of hospital caregivers who have seen the effects of the COVID-19 pandemic firsthand during the past year.
"Our staff has worked tirelessly this past year to keep East Texans healthy," Briggs said. "The acts of kindness we have seen from the community to say 'thank you' mean so much to our team of dedicated healthcare workers who are serving on the frontlines fighting this virus."