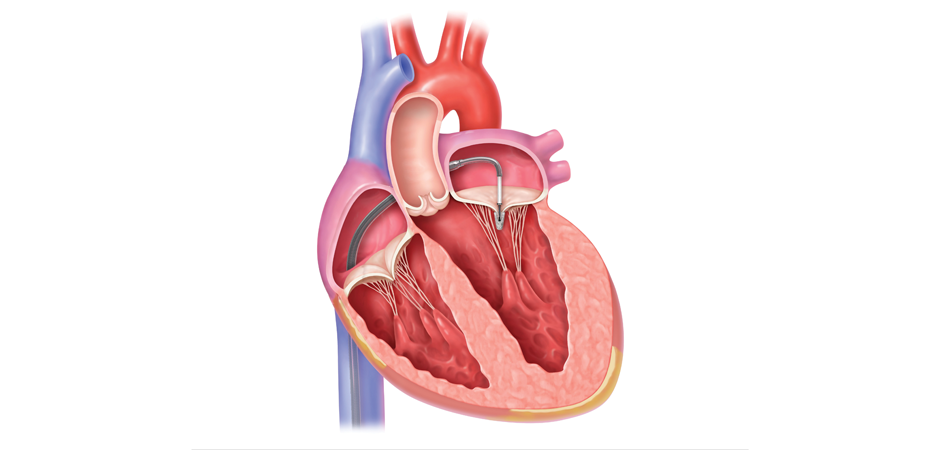 Tyler, Texas (February 3, 2020) — The cardiology team at UT Health Tyler has successfully performed its first mitral valve repair using the innovative MitraClip® procedure — a minimally invasive treatment option for people with a severe leak in the mitral valve who are too high-risk for traditional open heart surgery. The condition, called mitral regurgitation, is the most common heart valve disease. UT Health Tyler is the first in Tyler to perform this procedure.
"The MitraClip is a novel option for patients with mitral regurgitation that previously were considered too high risk for surgery," said cardiologist Dr. Brent Davis. "Data shows that in the appropriate patients, this device can improve survival and reduce the risk of hospitalization for congestive heart failure."
A leak in the mitral valve occurs when the flaps, or doors, do not close completely, allowing blood to flow back into the heart as it pumps. The heart has to work harder, as a result, to keep blood flowing and can raise the risk for life-threatening stroke and heart failure. When mitral regurgitation becomes severe, it can profoundly affect a person's quality of life by causing shortness of breath, extreme fatigue and other debilitating symptoms.
For select patients who are too high-risk for surgery, MitraClip® NT now offers a safe and effective treatment option. The small MitraClip® NT clip is guided into place using a thin tube, or catheter, guided through a small incision in a leg vein. The clip is then attached to the flaps of the mitral valve to help it close more completely and restore normal blood flow. Patients tend to have a short hospital stay and experience improved heart function and symptoms almost immediately.
"The second I woke up, I felt a thousand percent better," said Brent Holt, the first patient to receive the MitraClip in Tyler. "I could breathe. Everything was clear. I felt like I could have just gotten out of bed and gone home right then compared to how I felt the day before."
Holt went home the day after his procedure with no pain medication.
"I had no pain or discomfort," Holt said. "Other than a little bit of a scratchy throat, it was like nothing had ever happened, except I got better."
About MitraClip®
The MitraClip® Clip Delivery System is indicated for the percutaneous reduction of significant symptomatic mitral regurgitation (MR >3+) due to primary abnormality of the mitral apparatus [degenerative MR] in patients who have been determined to be at prohibitive risk for mitral valve surgery by a heart team, which includes a cardiac surgeon experienced in mitral valve surgery and a cardiologist experienced in mitral valve disease, and in whom existing comorbidities would not preclude the expected benefit from reduction of the mitral regurgitation. More information, including important safety information, can be found at www.mitraclip.com.
About UT Health East Texas
UT Health East Texas provides care to thousands of patients each year through an extensive regional network that includes 10 hospitals, more than 50 clinics, the Olympic Plaza Tower, 13 regional rehabilitation facilities, two freestanding emergency centers, regional home health services covering 41 counties, an EMS fleet of more than 50 ambulances and four helicopters, and a comprehensive seven-trauma center care network, including the region's only Level 1 trauma facility.
As a partner with The University of Texas System, UT Health East Texas is uniquely positioned to provide patients with access to leading-edge research and clinical therapies while training and educating the next generation of physicians and other health professionals. The nationally recognized UT System also includes UT MD Anderson Cancer Center in Houston, UT Southwestern Medical Center in Dallas, as well as three other major university medical centers located throughout the state.