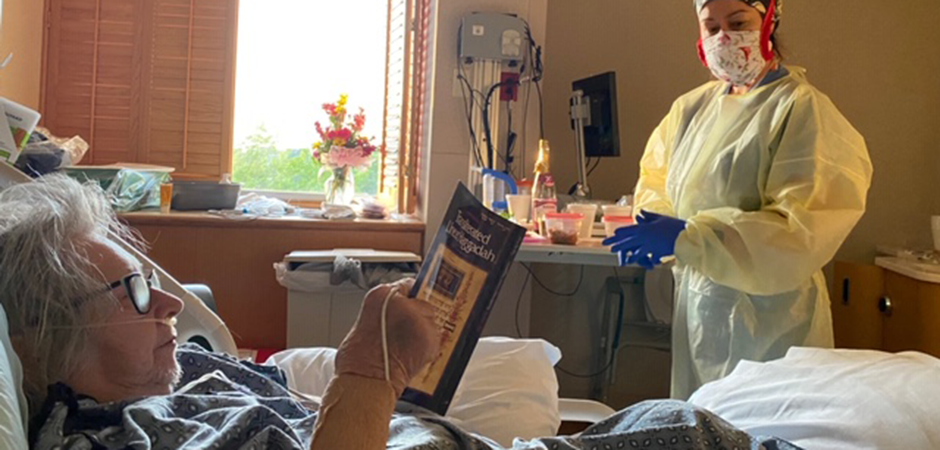 Tyler, Texas (July 23, 2020) - After months of long and challenging shifts on the COVID-19 unit, nurse Dionne Martin has a plan for re-energizing when she's able to finally take a break — a trip to sandy shores and sparkling blue water. The beach has always been Martin's go-to spot when she needs rest and relaxation, and now she'll be heading to an island destination courtesy of JetBlue, which recently recognized her as a JetBlue Healthcare Hero.
Martin doesn't yet know when she'll be able to make time for her getaway — she has a year to use the two certificates for a roundtrip flight to any city that JetBlue Flies — but she already knows where she'll be heading. The Turks and Caicos Islands, one of the many locations where JetBlue flies, is her destination choice.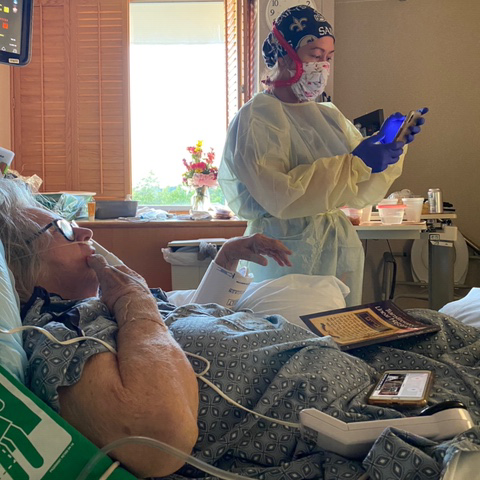 "JetBlue has recognized that no community has taught us more about what it means to be human — no, superhuman — than the millions of healthcare workers and first responders across our country who risked their lives to protect ours," JetBlue said in an email notifying Martin of the honor.
Martin was nominated for the award by Tyler Morning Telegraph Editor John Anderson. "It was her selflessness I witnessed as a reporter that led me to the nomination when the email came across my desk," Anderson said.
Martin, a nurse in UT Health Tyler's Cardiovascular ICU who volunteered to work on the COVID-19 unit when the pandemic began, said she was incredibly humbled that someone would take the time to nominate her for doing the job she loves.
"I was ecstatic because I don't participate in things like that, so for someone to take the time and think about my position in the community and that they appreciated it so much that they submitted words about me, and the company read it and appreciated work in the community that I did," Martin said, "the gesture is absolutely amazing. It gives you a rejuvenation of why you do this."
Martin has been instrumental in keeping patients and their families connected, as the hospital is not allowing visitors because of COVID-19. She has set up FaceTime conversations with patients and their families and checks in often with family members to give them updates on their loved one's condition. Martin and other nurses even helped one patient celebrate Passover while her daughter participated via FaceTime.
Martin said those connections provide a bright spot during these challenging times. She remains close with some of her former patients as well as the families of patients who passed away.
"Forming the bonds with the family, and the patient if possible, and being able to be part of their health experience and giving them a positive healthcare experience, that has been the most uplifting," Martin said.
About UT Health East Texas
UT Health East Texas provides care to thousands of patients each year through an extensive regional network that includes 10 hospitals, more than 50 clinics, the Olympic Plaza Tower, 13 regional rehabilitation facilities, two freestanding emergency centers, regional home health services covering 41 counties, an EMS fleet of more than 50 ambulances and four helicopters, and a comprehensive seven-trauma center care network, including the region's only Level 1 trauma facility.
As a partner with The University of Texas System, UT Health East Texas is uniquely positioned to provide patients with access to leading-edge research and clinical therapies while training and educating the next generation of physicians and other health professionals. The nationally recognized UT System also includes UT MD Anderson Cancer Center in Houston, UT Southwestern Medical Center in Dallas, as well as three other major university medical centers located throughout the state.