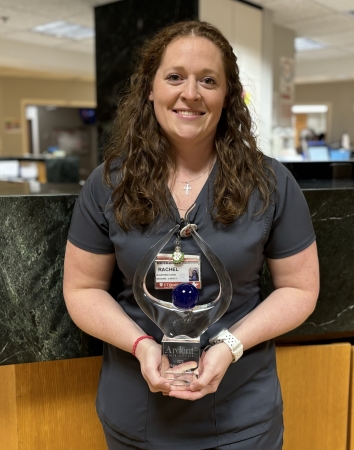 Tyler, Texas (November 1, 2023) —  Rachel Carney, RN, a nurse in the renal/urology unit at UT Health Tyler, has been recognized by Ardent Health Services with the 2023 Nurse of the Year Award. 
Presented annually by UT Health Tyler's parent company, the award recognizes an outstanding nurse for their compassion, skill and willingness to go the extra mile in caring for others.  
Rachel was selected from among all 2023 DAISY Award winners within Ardent, which includes 30 hospitals and more than 200 sites of care across six states. The DAISY Award is an international recognition program, which allows patients, families and coworkers to celebrate and recognize nurses who deliver extraordinarily compassionate care. 
"Rachel consistently serves others with integrity and compassion. She treats her patients and peers with respect and is commonly recognized for going above and beyond," said UT Health Tyler Chief Nursing Officer Lecia Bowman. "She is described as 'one of the best preceptors' to our new nurses and students and always supports our mission of educating and developing the caregivers of the future. She is detail-oriented, a team player and the calm in any storm."    
Rachel's DAISY Award nomination came from a patient who had a lengthy hospital stay following surgery. 
"In addition to helping with my medical needs, she talked me through several days of severe physical and psychological discomfort and helped me with things I never expected I would need help with, including bathing, changing my linens and shaving my beard," the DAISY nomination read. "She even talked me through a borderline nervous breakdown and called to check on me during a well-earned day off. I felt like I was being taken care of by a loved one. I can't express how much that meant to me."
Carney said she was shocked to receive the award.
"I don't do this for awards, I just try to do my job," she said. 
The Nurse of the Year Award came with a glass trophy and a vacation package to the destination of Carney's choice. 
Carney said she is hoping to use the travel voucher for a medical mission trip to Turkey, having recently returned from such a trip, where she provided medical care to migrant field workers. 
"I love what I do. I believe my purpose as a nurse is that through my care and compassion people come to know the love and mercy of God," Carney said. "That's my goal every day. That's what keeps me going."