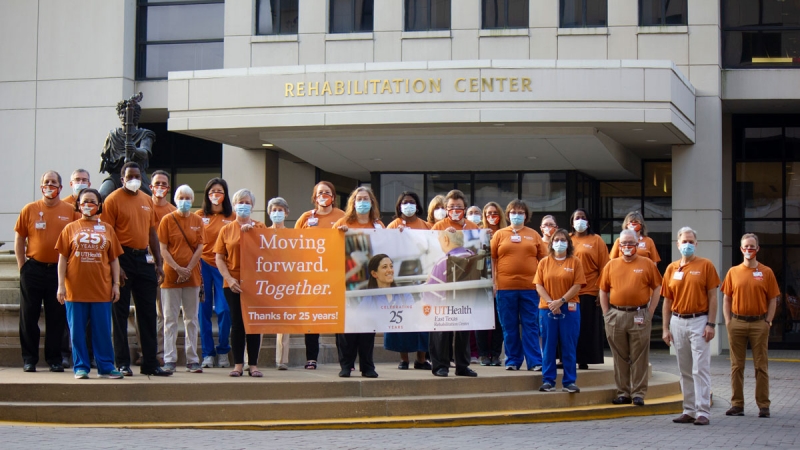 This year marks a major milestone for the UT Health East Texas Rehabilitation Center – its 25th anniversary. Crucial to UT Health Rehabilitation Center's 25 years of service to the community are the employees who have worked there since its inception. "It is a testament to our wonderful team and sense of belonging that many employees feel," said UT Health Rehabilitation Center Administrator Laurie Lehnhof-Watts, MSN, RN.
Beginning as a 24-bed unit within UT Health Tyler, the Rehabilitation Center was officially created in 1995 with the construction and dedication of the Olympic Plaza campus. The $52 million expansion allowed inpatient capacity to increase to 48 beds, and added an outpatient therapy clinic and a 500,000 square foot Olympic fitness center. The new facility provided a central location for a network of post-acute care clinics across East Texas – a network that continues to serve East Texas today.
"The East Texas community has benefited from a network of excellent rehab clinicians in the acute hospital, the rehabilitation hospital, the outpatient clinics, the cardiac rehab clinics and the fitness centers," Lehnhof-Watts said. "The number of lives touched by our caregivers' hands and hearts is incredible."
Today, the center offers a wide range of services to help individuals reach their highest level of function and independence possible, including:
A 48-bed inpatient rehabilitation hospital that treats a wide variety of case mixes, including recovering stroke and orthopedic patients.
14 outpatient clinics, including physical, occupational and speech therapy treatment.
11 cardiac rehabilitation clinics, with the Tyler location being the first location in East Texas to offer Pritikin ICR, a comprehensive program offering nutrition and stress management education, in addition to the traditional exercise classes.
10 Olympic Center medical fitness facilities, offering state-of-the-art fitness equipment, group fitness classes and Olympic-size pools.
For the second year in a row, the UT Health Rehabilitation Center and the Olympic Fitness Center won "Best in Town" for their respective categories in the 2020 Tyler Morning Telegraph's Reader's Choice Awards.
"I hope that UT Health continues to be the center of choice for East Texans," Lehnhof-Watts said. "They won't find a more dedicated and caring team. We do want to be your health partner for life, and the continuum of services available here can meet those needs."
For more information about UT Health Rehabilitation Center and the services offered, please visit UTHealthRehab.com.
About UT Health East Texas
As a partner with The University of Texas System, UT Health East Texas is uniquely positioned to provide patients with access to leading-edge research and clinical therapies while training and educating the next generation of physicians and other health professionals. The nationally recognized UT System also includes UT MD Anderson Cancer Center in Houston, UT Southwestern Medical Center in Dallas, as well as three other major university medical centers located throughout the state.