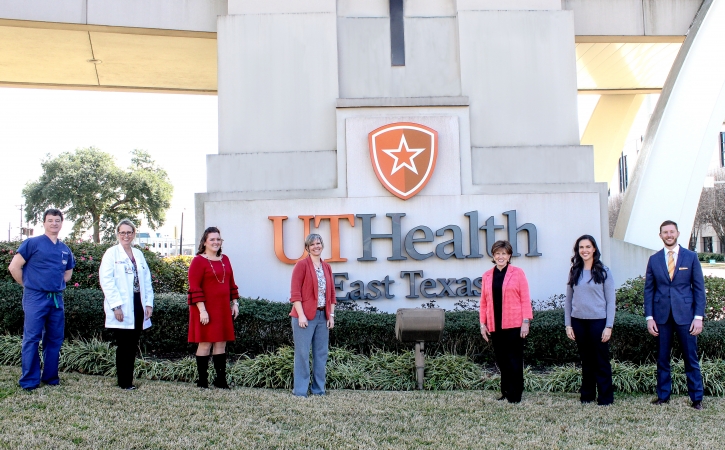 Pictured above: – Dr. Paul Detwiler, Dr. Julie Philley, Christy Escandon, Tracy O'Daniel, Vicki Briggs, Jessica Cox and Jimmy Clark.
Tyler, Texas (March 12, 2021) — The Texas Hospital Association named UT Health Tyler, the flagship hospital of the UT Health East Texas health system, as a recipient of the 2020 Bill Aston Award for Quality.
The THA Bill Aston Award for Quality honors a hospital's measurable success in improving quality and patient outcomes through the sustained implementation of a national and/or state evidence-based patient care initiative.
In 2018, UT Health East Texas, launched a cultural transformation through the development and implementation of Mission Zero: Our Culture of Safety, where zero patient harm became their goal.
With support from the board of trustees, physicians and administration, the quality and patient safety team began a journey toward a cultural shift that transformed the way UT Health East Texas ensures patient safety. They started with daily safety briefings at every facility. A "Good Catch Program" was added – where good catches are shared across the division in the newsletter – and caregivers are recognized for their diligence and focus on safety.  
 Mission Zero has helped UT Health East Texas improve patient quality, safety and outcomes by reducing the total number of hospital-associated conditions. With an 85% reduction in hospital acquired conditions in 2019, UT Health East Texas avoided a cost of about $1,371,891 and altogether eliminated the Centers for Medicaid and Medicare Services penalty by improving quality, safety and patient outcomes. UT Health East Texas has bolstered its commitment to patient safety and improved outcomes for the communities they serve.
To learn more about services offered at UT Health Tyler, visit UTHealthTylerHospital.com/Services.
About the Texas Hospital Association
Founded in 1930, the Texas Hospital Association is the leadership organization and principal advocate for the state's hospitals and health care systems. Based in Austin, THA enhances its members' abilities to improve accessibility, quality and cost-effectiveness of health care for all Texans. One of the largest hospital associations in the country, THA represents more than 85% of the state's acute-care hospitals and health care systems, which employ some 400,000 health care professionals statewide. Learn more about THA at www.tha.org or follow THA on Twitter at https://twitter.com/texashospitals.
About UT Health East Texas
UT Health East Texas provides care to thousands of patients each year through an extensive regional network that includes 10 hospitals, more than 50 clinics, the Olympic Plaza Tower, 13 regional rehabilitation facilities, two freestanding emergency centers, regional home health services covering 41 counties, an EMS fleet of more than 50 ambulances and four helicopters, and a comprehensive seven-trauma center care network, including the region's only Level 1 trauma facility. 
As a partner with The University of Texas System, UT Health East Texas is uniquely positioned to provide patients with access to leading-edge research and clinical therapies while training and educating the next generation of physicians and other health professionals. The nationally recognized UT System also includes UT MD Anderson Cancer Center in Houston, UT Southwestern Medical Center in Dallas, as well as three other major university medical centers located throughout the state.