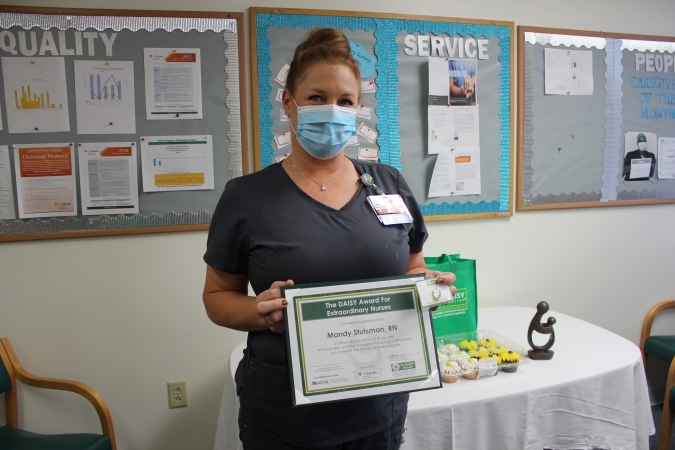 Tyler, Texas (May 21, 2021) — Mandy Stutsman, RN, with UT Health East Texas Long-Term Acute Care (LTAC), recently was selected as a DAISY Award winner.
"This award is for nurses who provide compassionate care to patients," LTAC Chief Nursing Officer Shawna Pippin said. "Many nurses provide exceptional care to their patients but DAISY is for those that really form a bond and go above and beyond in their practice. These nurses truly shine as examples of nursing care."
Nurses may be nominated by patients, families and colleagues, and the award recipient is chosen by a committee at UT Health East Texas. Stutsman received a formal nomination from her patient, who was legally blind and mentioned not being able to clearly see football games from the small TV provided in the room. Stutsman provided the patient with a 60-inch TV so that he could continue to enjoy the games during his stay.
"[Stutsman] went out of her way to bring joy to the patient," Nurse Manager Devone Leach, RN, said. "He was so thankful and surprised by her kindness."
As a winner of the DAISY Award, Stutsman received a certificate, a DAISY Award pin and a sculpture called A Healer's Touch, hand-carved by artists of the Shona Tribe in Zimbabwe. Awards are presented throughout the year at celebrations attended by the honoree's colleagues, patients and visitors.
"Receiving a DAISY Award allows nurses to feel honored for the work they complete on a daily basis," Stutsman said. "The award motivated me to excel in my career as a nurse and strive to continue excellent patient care."
Stutsman joined UT Health in May 2019. She received her RN associates degree from Kilgore College in Kilgore.
The DAISY Foundation is a not-for-profit organization established in memory of J. Patrick Barnes, who died in 1999 at age 33 from complications of an autoimmune disease (DAISY is an acronym for Diseases Attacking the Immune System.) The care Barnes and his family received from nurses while he was ill inspired this unique means of thanking nurses for making a profound difference in the lives of their patients and patient families. Today, this program has been implemented in more the 1,900 healthcare facilities, including UT Health East Texas.