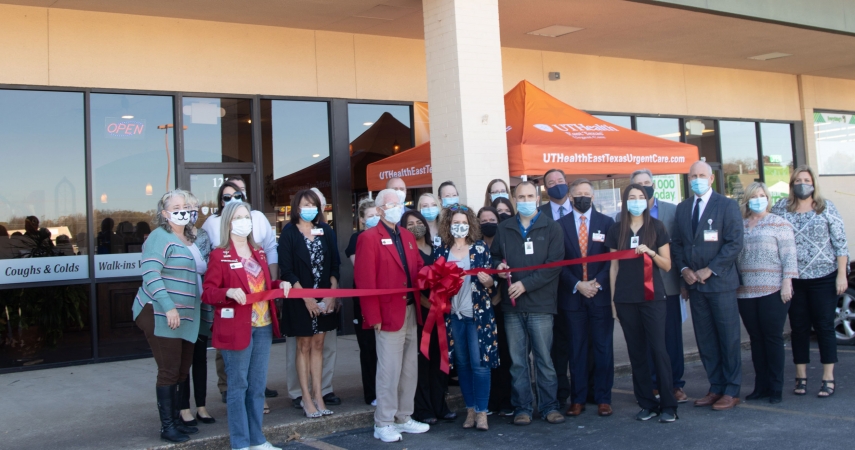 New walk-in care clinic to help meet the area's growing demand for healthcare
UT Health East Texas hosted a ribbon-cutting Wednesday for its new urgent care in Canton, 301 E. State Hwy. 243 in the Trader's Square shopping plaza. Formerly known as "Canton Express Med," the clinic re-opened as UT Health East Texas Urgent Care earlier this month. The hours of operation are 8 a.m. to 8 p.m. weekdays and 8 a.m. to 5 p.m. on weekends.
"We are so pleased to continue serving the Canton community by offering compassionate care that's close to home," said UT Health East Texas President and CEO Moody Chisholm. "Studies have shown that urgent care visits are more convenient and affordable than a trip to the ER because patients typically are seen quicker and at a much lower cost. With this urgent care, we can offer our patients the right care at the right time at the right price."
UT Health East Texas Urgent Care provides walk-in care for minor illnesses and injuries, treating patients 3 months and older. Conditions treated include fever, cold and flu, minor cuts that may need stitches, sprains and strains, possible broken bones or simple fractures, vomiting and diarrhea. COVID-19, flu and strep testing also is available.
UT Health East Texas Urgent Care offers next-level convenience with options like online registration and bill-pay. Patients who check-in online using their home computer or mobile device will automatically receive texts counting them down to their scheduled arrival time.
The facility follows CDC-recommended COVID-19 safety protocols that include masks, temperature and symptom checks, strict cleaning and disinfection, and seating and floor markings to ensure social distancing.
UT Health East Texas Urgent Care will operate as a seamless extension of UT Health East Texas. In cases where follow-up care is needed, patients will have a fast-track option to see a UT Health physician or an affiliated specialist. Most insurance will be accepted.
To learn more, visit UTHealthEastTexasUrgentCare.com.