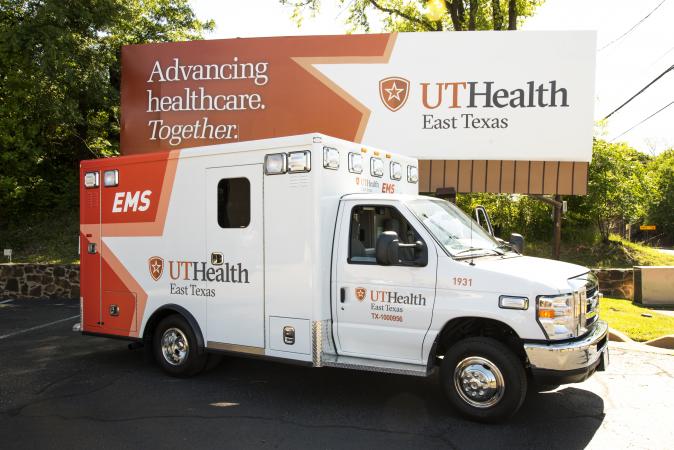 Tyler, Texas (April 19, 2018) UT Health East Texas EMS, with a 50 year history of providing quality service to the communities of East Texas, rolled out its new ambulance design during a reveal celebration at EMS for its state-of-the-art units that transport over 100,000 patients each year.
"We are excited to unveil the first ambulance that features the new UT Health East Texas EMS logo and colors," said Moody Chisholm, president and CEO of UT Health East Texas. "Over the next several months, all 50 ambulances and EMS support vehicles will be branded with the new look."
UT Health East Texas (formerly ETMC EMS) began providing ambulance service in 1968. Its coverage area includes Tyler and most of Smith County, Henderson County, Wood County, most of Cherokee County and the city of Henderson.
UT Health East Texas EMS employs 116 paramedics and 124 emergency medical technicians.
"Our company is very proud of the high standards of excellence we provide in East Texas," said John Smith, CEO of UT Health East Texas EMS. "The new look of our ambulances and uniforms is very modern and is a great compliment to the level of care we provide as the only accredited EMS service in this area."
UT Health East Texas EMS is one of only 170 EMS services in the United States to receive accreditation from the Commission on Accreditation of Ambulance Standards.
"Another change you will see on the ambulances is the chevron pattern on the back, which is now a requirement for emergency response vehicles, making them more visible on the scene of an accident," said Smith.
"Andy the Ambulance" also has a new look with the UT Health East Texas EMS colors. He travels all over East Texas visiting schools, community events and parades teaching children how to handle an emergency.
UT Health East Texas Air 1 also is being rebranded. The new helicopter look will be revealed in June.
About UT Health East Texas
Formed in 2018 through the combination of East Texas Medical Center Regional Healthcare System (ETMC) and The University of Texas Health Science Center at Tyler (UT Health Northeast), UT Health East Texas provides care to thousands of patients each year through an extensive regional network that includes 10 hospitals, more than 50 physician clinics, the Olympic Plaza Tower, 13 regional rehabilitation facilities, two freestanding emergency centers, regional home health services covering 41 counties, an EMS fleet of more than 45 ambulances and four helicopters, and a comprehensive seven-trauma center care network, including a Level 1.
As a partner with The University of Texas System, UT Health East Texas is uniquely positioned to provide patients with access to leading-edge research and clinical therapies while training and educating the next generation of physicians and other health professionals. The nationally recognized UT System also includes UT MD Anderson Cancer Center in Houston, UT Southwestern Medical Center in Dallas, as well as three other major university medical centers located throughout the state.
###