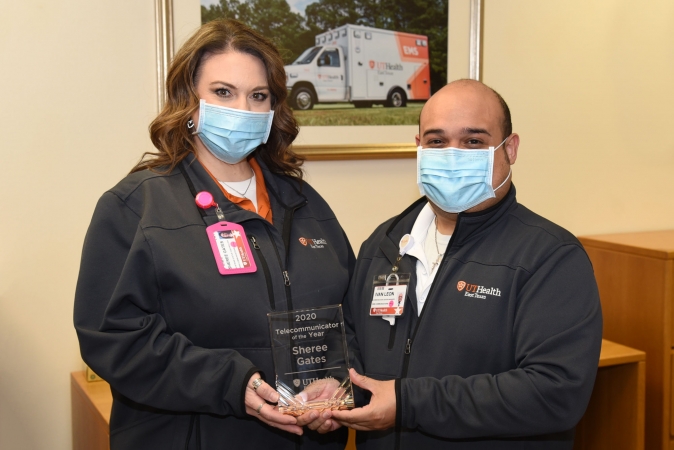 Sheree Gates receives the 2020 UT Health East Texas Telecommunicator of the Year award from Ivan Leon, UT Health East Texas EMS/ AIR 1 Communications Manager.
Tyler, Texas (April 15, 2021) — In honor of National Public Safety Telecommunicators Week (April 12-17, 2021), UT Health East Texas EMS is recognizing the pivotal role its emergency dispatchers play every day.
Working from UT Health East Texas EMS headquarters in Tyler, a team of 27 dispatchers is responsible for answering emergency calls for EMS services within Smith, Cherokee, Camp, Rusk, Henderson, Wood and Upshur counties. On average, the UT Health East Texas EMS Communications Center handles more than 80,000 calls a year.
Sheree Gates, an 18-year EMS veteran and recipient of the 2020 UT Health East Texas Telecommunicator of the Year award, said getting the right medical care to the caller is an important job. "As a dispatcher, we are one of the first voices a person hears when calling 911 during a medical emergency," Gates said.
UT Health East Texas EMS Communications Center is one of nine communications centers in Texas to be recognized as an Accredited Center of Excellence (ACE) by the International Academies of Emergency Dispatch (IAED), which sets standards that govern the training, tools and processes used to manage and mitigate emergency situations.
"Being an EMS dispatcher is a very difficult job. Imagine giving lifesaving information without any environmental references, such as the weather or what's going on around the patient at the time," said Michael Smith, UT Health East Texas EMS Director of Communications and IT. "These accreditation standards allow each dispatcher to perform their roles using the same methodology and instructions for every call."
About UT Health East Texas
UT Health East Texas provides care to thousands of patients each year through an extensive regional network that includes 10 hospitals, more than 50 clinics, the Olympic Plaza Tower, 13 regional rehabilitation facilities, two freestanding emergency centers, regional home health services covering 41 counties, an EMS fleet of more than 50 ambulances and four helicopters, and a comprehensive seven-trauma center care network, including the region's only Level 1 trauma facility.
As a partner with The University of Texas System, UT Health East Texas is uniquely positioned to provide patients with access to leading-edge research and clinical therapies while training and educating the next generation of physicians and other health professionals. The nationally recognized UT System also includes UT MD Anderson Cancer Center in Houston, UT Southwestern Medical Center in Dallas, as well as three other major university medical centers located throughout the state.