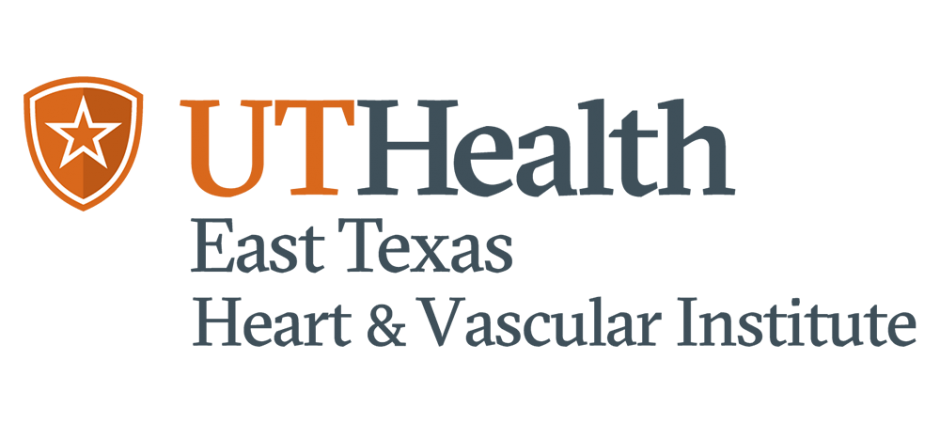 Tyler, Texas (May 21, 2021) The UT Health East Texas Heart and Vascular Institute provides East Texans with an extensive array of cardiac and cardiothoracic services. Along with the development of the Heart and Vascular Institute, UT Health East Texas has renewed its long-standing partnership with Tyler Cardiovascular Consults (CVC).
"This partnership brings two well-recognized organizations together that are committed to providing quality and outstanding cardiology-related services to the patients and communities they serve," said Donna Bowers, divisional director of cardiovascular services. "Coming together in a unified approach will allow the expansion of cardiology, cardiothoracic surgery and vascular screening programs, diagnostics and treatments for patients throughout East Texas."
Heart disease is the leading cause of death in Texas, Bowers said. The goal of this partnership and development of the UT Health East Texas Heart and Vascular Institute is to provide more needed heart-care services in the communities we serve.
With outpatient clinics in communities across the region, patients often don't have to travel to receive advanced, quality heart care. CVC fellowship-trained cardiologists see patients in Athens, Canton, Carthage, Cedar Creek Lake, Henderson, Jacksonville, Palestine, Pittsburg, Quitman and Tyler.
"Forming an integrated healthcare network delivery system will promote excellent quality of care, while working to reduce the cost of healthcare to the patient," Bowers said. "It's about developing programs that offer services in the right locations at the right times, providing a true continuum of care model. We are proud of the our relationship with CVC and are honored to be working closely with them now and in the future to make UT Health East Texas the premier provider for cardiovascular services."
The UT Health East Texas Heart and Vascular Institute provides a wide range of cardiac services, from diagnostic testing and imaging to minimally invasive and open heart surgery. Advanced services include, but are not limited to the following:
MyHeart First: a convenient and affordable diagnostic screening program that offers seven screenings (cholesterol panel, EKG, CT coronary calcium scoring, ankle brachial index, carotid artery ultrasound, abdominal aortic aneurysm screens and metabolic disease) in one appointment.
Minimally invasive surgery: heart surgery conducted through small incisions rather than splitting the breast bone. This approach allows the surgeon to have a better view of certain parts of the heart resulting in a more comprehensive operation. Data has shown these procedures provide a faster recovery time, shorter hospital stay, lower infection rate, less surgical pain and less blood loss.
Transcatheter aortic valve replacement (TAVR): a minimally invasive valve replacement procedure for patients with aortic stenosis. This procedure was designed for patients considered too weak for valve replacement surgery, so recovery time is much shorter and significantly less painful than traditional open heart surgery.
MitraClip®: Transcatheter Mitral Valve Repair (TMVR -MitraClip®) is a non-surgical, minimally invasive valve replacement procedure for patients with mitral valve regurgitation. UT Health Tyler was the first in Tyler to perform the MitraClip® procedure. For select patients who are too high-risk for surgery, MitraClip® offers a safe and effective treatment option.
Watchman FLX™: a new option for patients with non-valvular atrial fibrillation (AFib). This serves as an alternative to long-term blood thinners.
To learn more about heart and vascular services offered at UT Health East Texas, visit UTHealthEastTexas.com/HeartCare.
About UT Health East Texas
UT Health East Texas provides care to thousands of patients each year through an extensive regional network that includes 10 hospitals, more than 50 clinics, the Olympic Plaza Tower, 13 regional rehabilitation facilities, two freestanding emergency centers, regional home health services covering 41 counties, an EMS fleet of more than 50 ambulances and four helicopters, and a comprehensive seven-trauma center care network, including the region's only Level 1 trauma facility.
As a partner with The University of Texas System, UT Health East Texas is uniquely positioned to provide patients with access to leading-edge research and clinical therapies while training and educating the next generation of physicians and other health professionals. The nationally recognized UT System also includes The University of Texas MD Anderson Cancer Center in Houston, The University of Texas Southwestern Medical Center in Dallas, as well as three other major university medical centers located throughout the state.