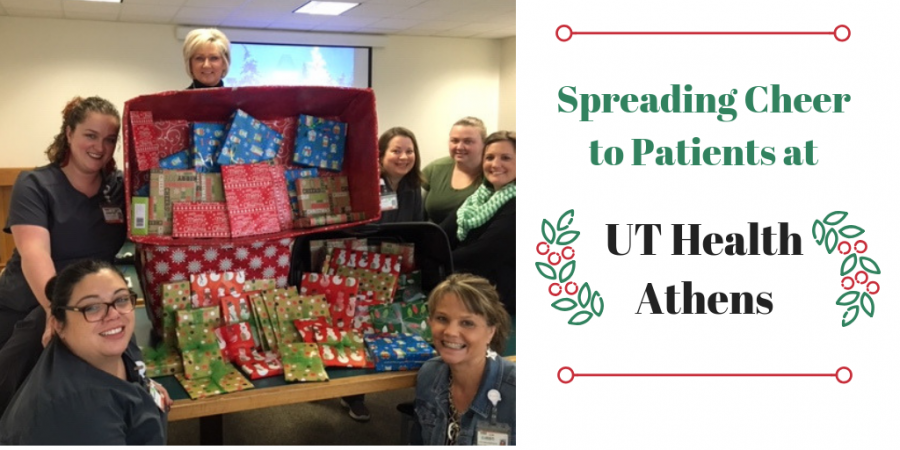 Athens resident Meagan Sims remembers what it felt like as a young girl to be hospitalized and scared at Christmas, but she recalls it fondly because of the generosity of others.
"While I was there it was so wonderful because these different people would come in at different times and drop off gifts. One time, I woke up and looked down and there was a stuffed animal tucked under my arm, another time it was a coloring book," Sims said. "It meant so much to me then that someone thought about me at Christmas when I couldn't be home with my own tree."
Sims is now paying it forward and hoping to provide the same positive experience in the community where she now lives. She recently partnered with caregivers at UT Health Athens to find a way to spread holiday cheer in the coming days.
Sims conducted a drive for puzzle books that caregivers could pass out to patients at the hospital during Christmas. After collecting the items at three locations – the Henderson County Public Library and at UT Health Athens and Cedar Creek Lake – she and hospital employees spent time this week wrapping the gifts and writing cards to go with them.
Sims said it's a way for her to give back to the community she moved to earlier this year.
"I just wanted to make a difference, to do something a little bit cheerful," she said.
Robyn Priestley, UT Health Athens coding specialist in health information management, said the hospital has conducted donation drives in the past, such as canned food drives at the holidays and school supply drives in the summer, but this is the first time they've had someone from the community leading the charge.
Sims joined caregivers for a gift-wrapping party at the hospital, complete with cookies and hot cocoa, and even wrote out some of the cards that will accompany the gifts.
"We wanted her to have as much involvement as possible," Priestley said.
UT Health Athens CEO Jack Endres said the initiative is a great example of how the hospital and community members can work together to care for people.
"It's such a blessing for us to have a member of our community give her time to help us make a hospital stay during the holidays brighter for our patients," Endres said. "For those patients, knowing someone cares about them at Christmas means so much. We're happy our caregivers can help with this effort."