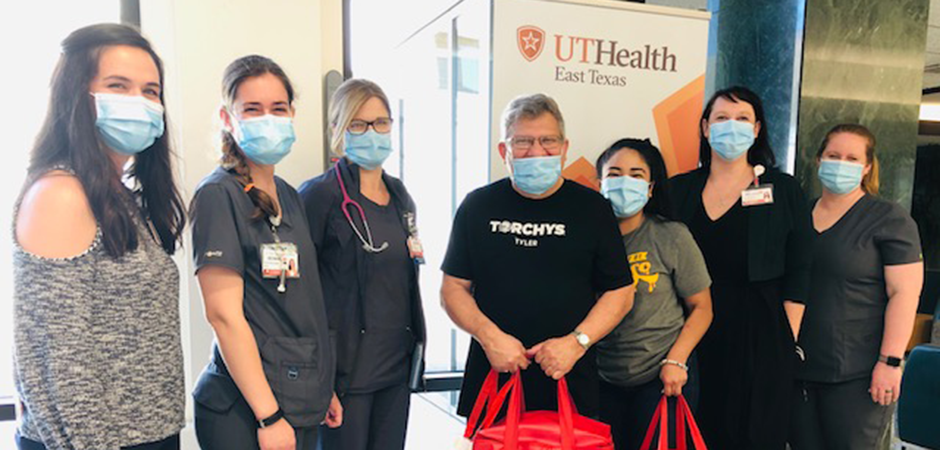 After recently spending 10 days at UT Health Tyler, Jim Simon had a new appreciation for the dedicated team of health professionals who work at the hospital on a daily basis.
Wondering how he could give back to those who took care of him, Jim turned to what he knows best – tacos.
Jim, managing partner of Torchy's Tacos in Tyler, hand-delivered fresh tacos to caregivers Thursday as a way to say thanks. It was the second delivery he's brought to caregivers since being released a few weeks ago.
"I wanted to do it again as a goodwill gesture," Simon said. "Those people are great."
Jim was admitted to the hospital with bilateral pneumonia and spent five days in an isolation unit until COVID-19 could be ruled out. He spent another five days on a regular unit until he was well enough to return home.
"When I got there I wasn't in great shape. I was really struggling," Simon said of his arrival at the hospital. "I can't say enough about the care I got. They took care of me, they really did."
So Jim wanted to care of healthcare workers with his own act of generosity, bringing tacos, chips, queso and Torchy's T-shirts as a token of his appreciation.
"It means so much when a patient shows gratitude and recognition for the care they received during their stay with us," said Bonnie Silva, RN, who treated Simon. "Jim went above and beyond, delivering his thank you in the form of Torchy's Tacos, which were greatly appreciated by our nurses and other caregivers."