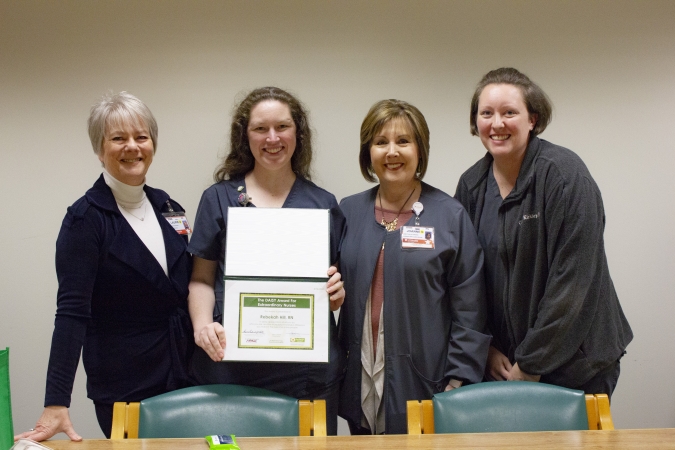 Tyler, Texas (February 14, 2019) Rebekah Hill, RN, with UT Health Rehabilitation Hospital, was selected by the UT Health East Texas Healthcare System as a DAISY Award winner.
As part of the DAISY Foundation's program, the award recognizes nurses who go above and beyond when providing care for their patients. Nurses are nominated by anyone who sees an act of extraordinary care and then selected by a hospital nursing committee quarterly.
Hill received a primary nomination from co-worker and fellow nurse Cassie Kirkley.
"She's a wonderful asset to this organization," Kirkley said. "She is caring… She is constant. You can always count on her to lend a helping hand... She is always the first to offer a kind word or prayer if a patient or co-worker is having a down day. And not least of all, she is patient. She is truly an all-around good person, and I cannot think of a better nurse to receive this nomination."
Shortly after her initial nomination, Hill received a second nomination from a former patient.
Rather than filling out the typical form for the nomination which is provided to patients upon discharge, the patient opted to write and publish his own version of the DAISY award.
In his comments the patient mentioned how Hill was "invariably kind, considerate, humorous and empathic – obviously confident as an RN, even when waking her patients from a sound sleep to administer a blood test, injection or check their blood pressure."
The patient continued by saying, "I have no doubt Patrick Barnes would be pleased to honor nurse Rebekah, and there is no doubt that Rebekah would be a worthy honoree of Patrick's family foundation."
Administrator of the Rehabilitation Hospital, Laurie Lehnhof-Watts, said she had never seen a patient take the time to nominate someone in this fashion, and it truly shows a special bond that nurses can form with their patients.
As a winner of the DAISY award, Hill received a certificate, a DAISY award pin and a unique, hand-carved serpentine stone sculpture from Zimbabwe, engraved with, "A Healer's Touch."
Hill joined UT Health a little over a year ago. Originally beginning her nursing career as a LVN in 2008, Hill worked to receive her registered nursing degree in 2012 from Tyler Junior College.
The DAISY Award was created in 1999 by Patrick Barnes after his family experienced extraordinary kindness and compassion from nurses, who cared for his terminally ill family member. DAISY stands for disease attacking the immune system. Today, this program has been implemented in more the 1,900 healthcare facilities, including UT Health East Texas.
Pictured in cover photo: Laurie Lehnhof-Watts, administrator and chief nursing officer for UT Health Rehabilitation Hospital, DAISY Award winner Rebekah Hill, Clinical Manager Joanne Brinker and RN Cassie Kirkley, who nominated Hill for the award, gathered for an award presentation Tuesday at the Rehabilitation Hospital.