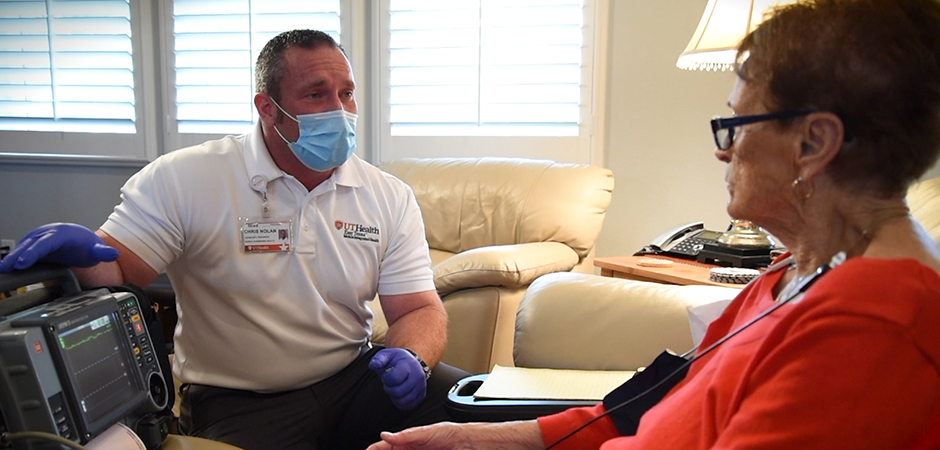 Tyler, Texas (July 28, 2020) - A free, 30-day program recently launched by UT Health East Texas EMS helps patients manage congestive heart failure after they are discharged home from a stay at a UT Health facility.
Mobile Integrated Health (MIH), is the first of its kind in the region and utilizes community paramedics to provide medical follow-up in the patient's home. The paramedics are able to complete health assessments and provide patient education and assistance post discharge.
"UT Health EMS is uniquely positioned to transition from an emergency focus on stabilizing and transporting patients to mobile integrated healthcare focused on post-discharge follow-up care, patient education and consultation and preventive care," said Dr. Yagnesh Desai, UT Health EMS medical director. "We have the components and trained personnel in place for each patient in the program to achieve success."
Prior to discharge from a UT Health East Texas facility, a member of the MIH team will explain the program and assist with the enrollment process. Enrollment is voluntary and open to patients with a diagnosis of congestive heart failure.
Once enrolled and discharged from the hospital, a MIH community paramedic will visit the patient at home. During each home visit, a community paramedic will perform a health assessment, log vital signs and provide medication information and education about CHF, said Greg LaMay, UT Health EMS clinical director.
"The MIH Program is patient-centered," LaMay said. "We use mobile resources in the home to administer care. Our goal is to diminish the chances that the patient will need to be readmitted to the hospital."
The standard treatment plan includes 10 patient visits over a four-week period. During that time, a community paramedic monitors and assesses treatment plans provided at discharge by the patient's physician and case management team.
"I think it is absolutely the best program that I have ever heard of," said Patricia Daker, a patient who benefitted from the MIH program. "It has helped me and my husband very much."
Currently, three community paramedics are administering care through the program — Daryl Lunceford, Brian Stites and Chris Nolan. Each has been a paramedic for more than a decade and is certified in advanced cardiac life support.
"I have devoted my life to answering the call and serving the people of East Texas when they need it most," said Chris Nolan, UT Health East Texas community paramedic. "I enjoy inspiring my patients and I love seeing them succeed."
Several patients enrolled in Mobile Integrated Health program already have completed the 30-day program.
"This is a great step forward for our community and the healthcare system of the future," Dr. Desai said.
About UT Health East Texas
UT Health East Texas provides care to thousands of patients each year through an extensive regional network that includes 10 hospitals, more than 50 clinics, the Olympic Plaza Tower, 13 regional rehabilitation facilities, two freestanding emergency centers, regional home health services covering 41 counties, an EMS fleet of more than 50 ambulances and four helicopters, and a comprehensive seven-trauma center care network, including the region's only Level 1 trauma facility.
As a partner with The University of Texas System, UT Health East Texas is uniquely positioned to provide patients with access to leading-edge research and clinical therapies while training and educating the next generation of physicians and other health professionals. The nationally recognized UT System also includes UT MD Anderson Cancer Center in Houston, UT Southwestern Medical Center in Dallas, as well as three other major university medical centers located throughout the state.