UT Health East Texas Olympic Center Tyler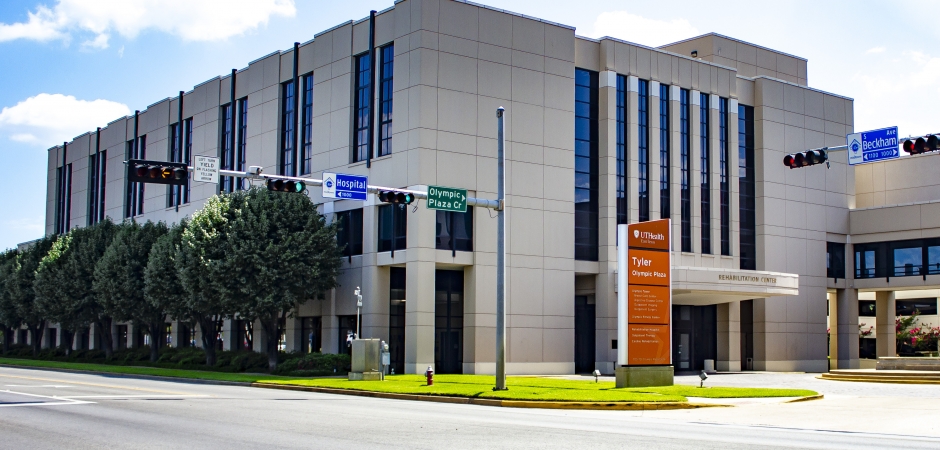 The UT Health East Texas Olympic Center Tyler has much more to offer than just your average gym. As Texas' first and only certified medical fitness center, all of our programs are medically based and under the supervision of a medical doctor. Our new member fitness assessment and exercise prescription, degreed and certified fitness staff, emphasis on customer service and member outcomes, clean and safe environment, and clinical integration set us apart.
Amenities
State of the art cardiovascular training equipment including treadmills, cycles, elliptical crosstrainers, arm bikes, rowers and more
Strength training equipment including selectorized equipment, free weights and plate loaded equipment
Indoor track
Two indoor saltwater pools, including a 25-yard lap pool and a warm-water therapy pool
Whirlpool hot tub
Two group fitness studios
New member assessment and fitness training orientation
Free reassessment and exercise program evaluation every three to six months
Over 65 group fitness classes weekly
Locker rooms and towel service
Personal Training
Personal training services are supervised exercise sessions available for members who want more specific exercise instruction outside the realm of a comprehensive general fitness program. Personal training is delivered by a our nationally certified personal trainers. Call 903-596-3233 or complete our personal training interest form for more information.
Massage Therapy
Massage therapy rejuvenates the body and mind by relieving the tension of stressed-out, overworked or injured joints and muscles. As part of a healthy lifestyle, therapeutic massage can be a vital component of a comprehensive program of disease and pain prevention. Call 903-596-3150 or complete our massage therapy interest form for more information.
Click here for our current massage therapy offerings and fees.
Nutritional Counseling
Our Tyler location offers one-on-one nutritional counseling with a registered dietitian. This service is available to anyone who is wanting to learn how diet impacts your fitness and overall health. Sessions can be purchased individually or as a package. For questions or more information, call 903-596-3233 or complete our nutrition counseling interest form.
Medical Fitness Programs
Medical fitness programs are supervised programs designed for individuals who are managing a medical condition such as heart disease, obesity or diabetes; transitioning from a clinical rehabilitation program; or simply needing additional support starting an exercise program. Each program is designed to improve individual health and fitness and support patient recovery. Call 903-596-3233 or visit our medical fitness programs page for more information.
Aquatics
Our aquatics area features a 25 yard lap pool, a warm water pool and a spa. We offer a variety of aquatic classes, opportunities for individual exercise and lap swim as well as children's swim lessons.
Group Fitness
Group fitness classes offer our members the opportunity to be physically active with others under the guidance of an in-person instructor, or our Fitness on Demand virtual class platform. We offer a variety of class formats to help keep members motivated and interested.
Click here for our 2nd floor fitness center class schedule.
Click here for our mind-body studio class schedule.
Hours of Operation
Fitness
Monday – Thursday: 5 a.m. – 8 p.m.
Friday: 5 a.m. – 7 p.m.
Saturday: 8 a.m. – 2 p.m.
Sunday: 1 - 5 p.m.

Aquatics
Monday – Thursday: 6 a.m. – 7 p.m.
Friday: 6 a.m. - 5 p.m.
Saturday: 8 a.m. - 2 p.m.


Please stop by for a tour or call us at 903-535-6961
Providers At This Location