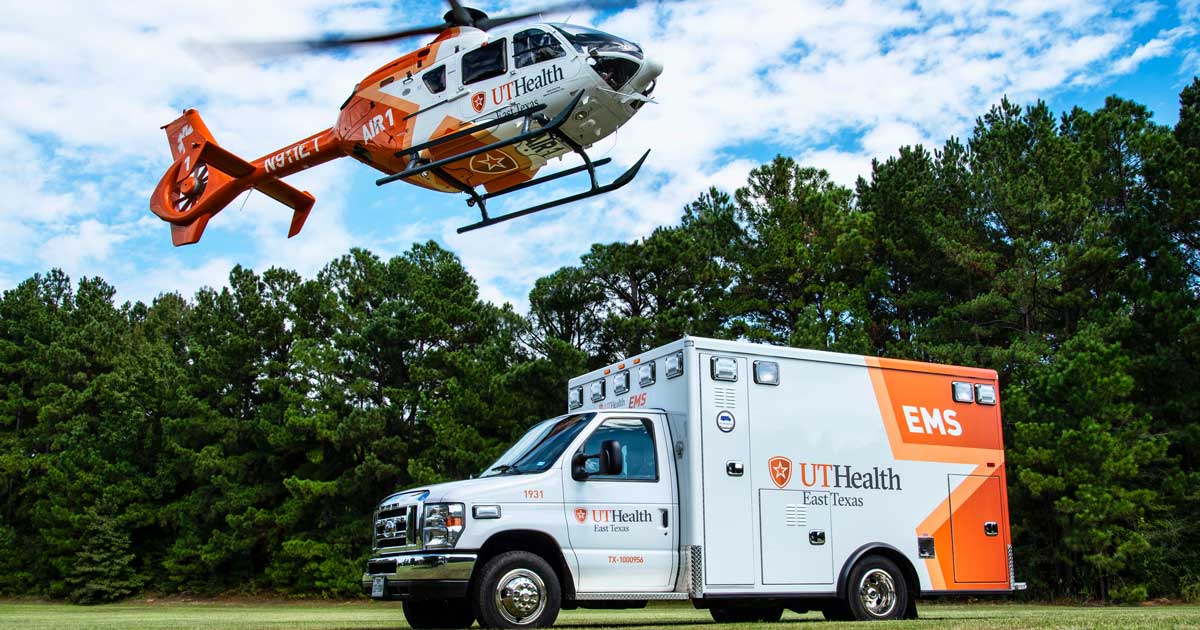 Across East Texas, we are answering the call with life-saving emergency care.
When Seconds Count
When an emergency happens and seconds count, the men and women of UT Health East Texas EMS and AIR 1 answer the call. With more than 50 ambulances, three active helicopters and one helicopter in reserve that are strategically located across the region, emergency teams provide rapid access to care.
UT Health East Texas EMS and AIR 1 are equipped to begin treatment at the scene, which saves lives. An upgraded fleet of emergency transport vehicles features Pulsara, an advanced mobile communication technology to track heart and stroke patients in real time before, during and after arrival at the emergency room. Every second saved during an emergency, improves the likelihood of a life saved. 
Accreditation Matters
UT Health EMS is the only ground transport service in the region accredited by the Commission on Accreditation of Ambulance Services (CAAS). In addition, UT Health East Texas AIR 1 is accredited by the Commission on Accreditation of Medical Transport Systems (CAMTS). These accreditations mean UT Health EMS and AIR 1 has met or exceeded industry standards for quality, patient care and safety. Also, the UT Health East Texas EMS Dispatch Center is one of only nine centers in Texas to be recognized as an Accredited Center of Excellence (ACE) by the International Academies of Emergency Dispatch. 
Our Communities
UT Health EMS ground transports cover all of Henderson and Cherokee counties and most of Smith County and Wood County and the city of Henderson. With over 57,000 ground transports to area hospitals and almost 80,000 EMS calls in 2019, we are prepared and ready to answer the call when you need us. Our paramedics and EMTs are constantly trained in the most advanced life saving techniques and equipment. UT Health EMS ambulances are equipped to handle every emergency when needed.
Covid-19 Precautions and Safe Care
During the onset of the COVID-19 pandemic and in the future, UT Health EMS staff, paramedics and EMTs take every precaution necessary advised by the CDC. UT Health EMS is taking necessary precautions to keep patients and crews safe. Our crews are wearing personal protective equipment (PPE) on all calls and we are cleaning our trucks between transports according to CDC guidelines.
If you are experiencing a medical emergency, such as heart attack or stroke, you need to seek medical care immediately. With conditions such as these there is no time to waste. In the case of a heart attack, delayed treatment can mean loss of heart muscle. For stroke patients, your chances for recovery improve dramatically if you receive treatment in the first hour. So, call 9-1-1 or come to the emergency department immediately.
Keeping everyone safe and healthy is our top priority.
UT Health East Texas EMS Membership
UT Health East Texas EMS Membership covers you and eligible members of your household for one year and is a great value if any covered person needs a medically necessary ambulance transport.
Check out the UT Health EMS membership difference:   
Pays for all medically necessary ambulance transports not covered by health insurance.
50% discount on charges for all medically necessary ambulance transports for members without health insurance. The average cost of an ambulance transport is $750, but with UT Health EMS membership that ambulance transport cost could be cut in half.
Coverage for all qualifying members of your household.
For the fifth year in a row, UT Health EMS earned the American Heart Association's Mission: Lifeline EMS Gold Plus Award for implementing quality improvement measures for the treatment of patients who experience severe heart attacks. 
To learn more or to sign up for UT Health East Texas EMS membership, click here.
Foundation for Better Health
UT Health East Texas offers a mobile integrated health (MIH) program, a free 30-day  at home program developed to assist patients post hospitalization needs and avoid hospital admissions. Once enrolled and discharged from the hospital a MIH community paramedic will visit you at home. They provide medical assessment and healthcare education tailored to the medical needs of the patients.
To learn more about the UT Health East Texas MIH program, click here. 
Aircraft operated by Metro Aviation, Shreveport, Louisiana.
All FAA Part 135 aviation services provided by Metro Aviation, Inc., which maintains exclusive operational control over all aircraft.