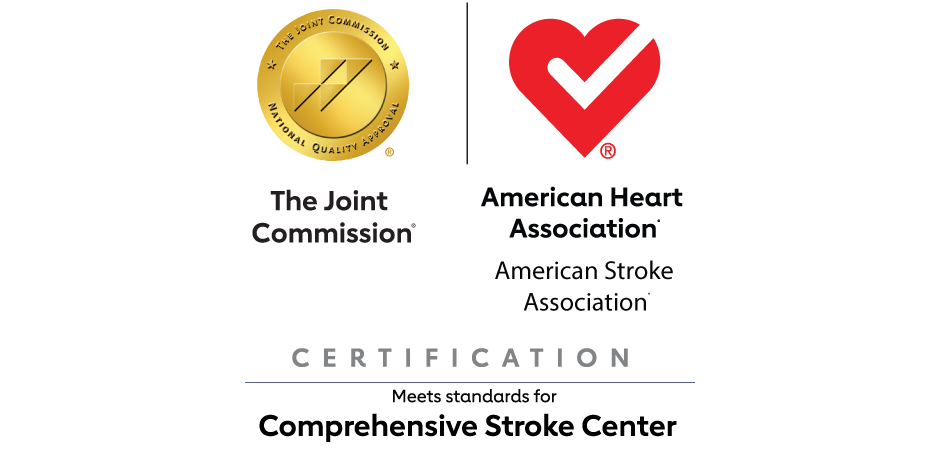 Tyler, Texas (September 27, 2019) — UT Health Tyler has earned The Joint Commission's Gold Seal of Approval® and the American Stroke Association's Heart-Check mark for Comprehensive Stroke Certification.
UT Health Tyler underwent a rigorous, onsite review. During the visit, a team of Joint Commission reviewers evaluated compliance with related certification standards including interventional neuroradiologists, stroke/vascular neurologists, vascular neurosurgeons, neurocritical care specialists, physiatrists specialty trained in neuro/stroke, advanced practice providers, social workers, case managers, nurse care coordinators and therapists, including physical, occupational, speech-language and recreational. The Joint Commission standards are developed in consultation with healthcare experts and providers, measurement experts and patients. The reviewers also conducted onsite observations and interviews.
"Comprehensive stroke certification recognizes healthcare organizations committed to fostering continuous quality improvement in patient safety and quality of care," said Mark Pelletier, RN, MS, chief operating officer, accreditation and certification operations, and chief nursing executive with The Joint Commission. "We commend UT Health Tyler for using certification to reduce variation in its clinical processes and to strengthen its program structure and management framework for stroke patients."
Nancy Brown, chief executive officer of the American Stroke Association, said the certification reflects UT Health Tyler's commitment to providing the highest quality of care for stroke patients. "We congratulate UT Health Tyler for this outstanding achievement," she said.
UT Health Tyler offers patients the latest approaches for caring for brain aneurysms, including coilings, clippings and flow diversions. UT Health Tyler has the ability to care for the most acute and complex patients. This is possible with state-of-the-art neurointerventional angiography and advanced imaging tools. The specialized stroke team manages the stroke patient from the onset of the stroke to rehabilitation and then management post stroke.
"This designation encompasses the full spectrum of stroke care — diagnosis, treatment, rehabilitation and education," said Vicki Briggs, CEO of UT Health Tyler. "We offer state-of-the-art stroke care every minute of every day. This certification is proof of our commitment to the East Texas community."
For more information, please visit The Joint Commission website at www.jointcommission.org.
About UT Health East Texas
UT Health East Texas provides care to thousands of patients each year through an extensive regional network that includes 10 hospitals, more than 50 clinics, the Olympic Plaza Tower, 13 regional rehabilitation facilities, two freestanding emergency centers, regional home health services covering 41 counties, an EMS fleet of more than 50 ambulances and four helicopters, and a comprehensive seven-trauma center care network, including the region's only Level 1 trauma facility.
As a partner with The University of Texas System, UT Health East Texas is uniquely positioned to provide patients with access to leading-edge research and clinical therapies while training and educating the next generation of physicians and other health professionals. The nationally recognized UT System also includes UT MD Anderson Cancer Center in Houston, UT Southwestern Medical Center in Dallas, as well as three other major university medical centers located throughout the state.