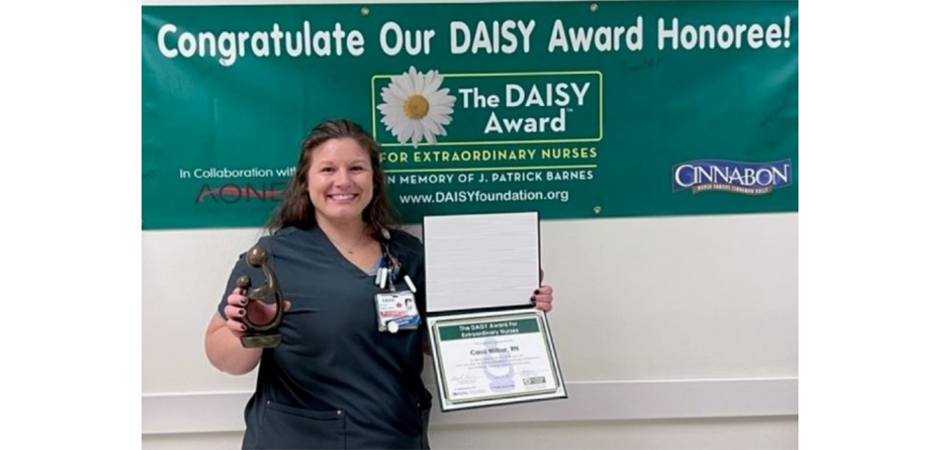 Jacksonville, Texas — Cassi Wilbur, RN, was selected by UT Health Jacksonville as a DAISY Award winner.
Nurses may be nominated by patients, families and colleagues, and Wilbur received a formal nomination from a coworker, Callie Jackson, RN.
In her nomination, Jackson described how she observed Wilbur take phenomenal care of a patient who arrived with a rapid heart rate to a crowded emergency room. Wilbur stayed with the patient while medication was administered, coaching her through what was happening and helping her to remain calm.
"Cassi showed compassion and went above and beyond for this patient in reassuring her during this feeling of fright that everything was going to be OK," Jackson wrote in the nomination. "Being witness to this event reminds me why we are here and what our job is about. As a fellow nurse, we sometimes forget that although we may be tired and/or stressed, being compassionate and 'just being there' is sometimes what patients need most."
As a winner of the DAISY Award, Wilbur received a certificate, a DAISY Award pin and a sculpture called A Healer's Touch, hand-carved by artists of the Shona Tribe in Zimbabwe. Awards are presented throughout the year at celebrations attended by the honoree's colleagues, patients and visitors.
The DAISY Foundation is a not-for-profit organization established in memory of J. Patrick Barnes, who died in 1999 at age 33 from complications of an autoimmune disease (DAISY is an acronym for Diseases Attacking the Immune System.) The care Barnes and his family received from nurses while he was ill inspired this unique means of thanking nurses for making a profound difference in the lives of their patients and patient families. Today, this program has been implemented in more the 1,900 healthcare facilities, including UT Health East Texas.