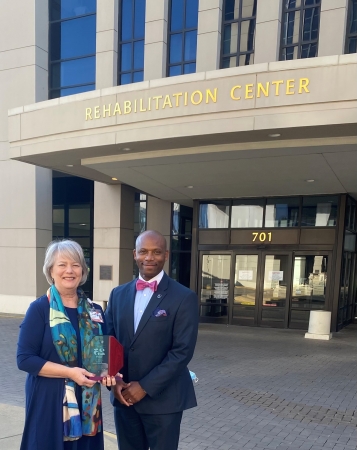 Tyler, Texas (October 21, 2021) — UT Health East Texas Rehabilitation Center was recognized for 25 years of membership in the Texas Hospital Association.
UT Health Rehabilitation Center Administrator Laurie Lehnhof-Watts, MSN, RN, said the employees who have worked at the facility since its inception are crucial to UT Health Rehabilitation Center's 25 years of service to the community. "It is a testament to our wonderful team and sense of belonging that many employees feel," she said.
The center offers a wide range of services to help individuals reach their highest level of function and independence possible, including:
A 48-bed inpatient rehabilitation hospital that treats a wide variety of case mixes, including recovering stroke and orthopedic patients.
14 outpatient clinics, including physical, occupational and speech therapy treatment.
11 cardiac rehabilitation clinics, with the Tyler location being the first location in East Texas to offer Pritikin ICR, a comprehensive program offering nutrition and stress management education, in addition to traditional exercise classes.
10 Olympic Center medical fitness facilities, offering state-of-the-art fitness equipment, group fitness classes and Olympic size pools.
For more information about UT Health Rehabilitation Center and the services offered, visit UTHealthRehab.com.