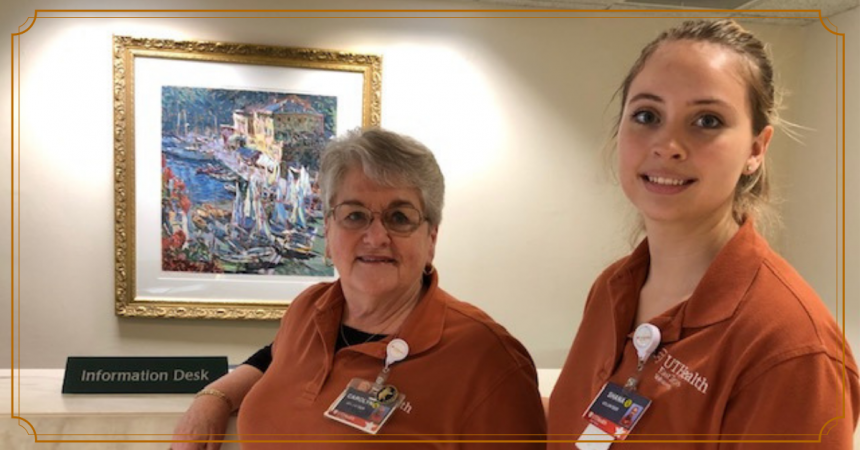 Carolyn Gianettino, 75, started volunteering at UT Health Tyler three years ago after her husband spent several days in the hospital. She was looking for a way to fill her retirement and to give back to her community.
"We received excellent, excellent help and care here and after that was all over with we were just wondering what can we do to give back," Gianettino said. "I saw the volunteers and thought, 'That's something I can do.'"
Shana Reasor, 23, a UT Tyler student started volunteering at the hospital a year and a half ago under very different circumstances. The full-time student and mother of two said the volunteer hours will help with her ultimate goal of going to medical school.
"I feel like I'm getting experience out of it – experience with patients, experience how the operations at the hospital works," Reasor said.
What the two women receive from the hours they spend volunteering, however, is very much the same – fulfillment from serving their community and those who walk through the hospital doors.
"It is one of the most rewarding days of my week, I look forward to coming," Gianettino said. "Life is full of taking and (volunteering) is very fulfilling and I would recommend it for anybody. It's just a very rewarding thing to do."
More than 100 volunteers give their time to UT Health Tyler, greeting guests and answering questions at the information desk, transporting patients within the hospital, helping in the gift shop, doing data entry and performing many other tasks.
In 2018, hospital volunteers contributed 15,775 hours of service, a gift of time and talents valued at $388,990.
"I feel volunteers are an integral part of the hospital caregiver team by creating a positive first impression as we care for people, patients and one another," said UT Health Tyler CEO Vicki Briggs. "Many times volunteers are the first person a patient speaks with as they are entering the admitting area. I am thankful for the volunteer team and am comforted they are on the front line."
Joyce Brown, the hospital's director of volunteers, said the adult volunteer team consists of men and women ranging from age 18 to senior adults. Thirty-five percent of volunteers are college students who are majoring in healthcare studies and 20 percent are older than 80. Brown said placements are designed to match each volunteer's passion and interests with the hospital's needs.  
"Our volunteers bring energy, happiness and compassion that in turn, they share with people, patients and one another," she said.
For information on volunteering opportunities at UT Health Tyler, please call 903-531-8199, email volunteers@uthet.com, or visit uthet.com/volunteers