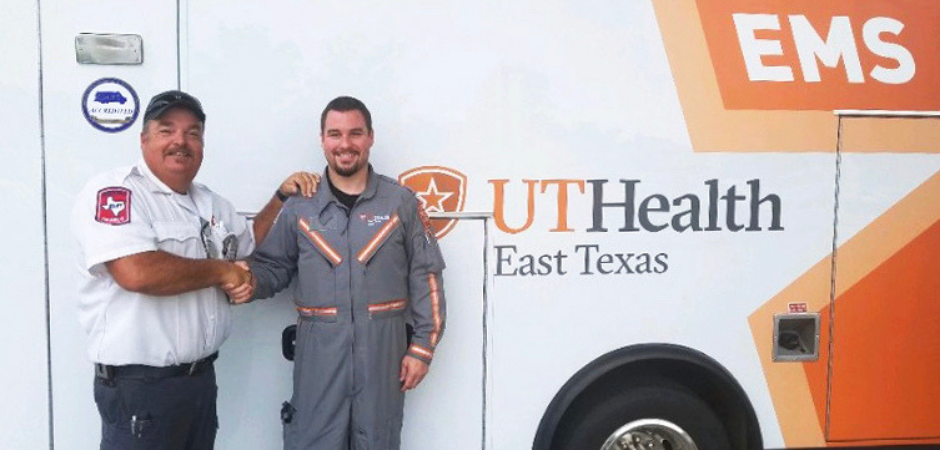 Congratulations to Chris Fugate on being named the UT Health East Texas EMS | AIR 1 Caregiver of the Month! Chris was nominated by his coworkers because of his devotion to helping people.
Chris's nomination read:
"Chris Fugate works as a swing medic in all of our service regions. Chris, along with Vanessa Sanches, was assigned to a diabetic call. Afterwards, the patient called to thank UT Health EMS for the compassionate and professional employees we had working for us. He spoke of his Chris' approach quickly placed him at ease and gained his trust. This allowed Chris to assess the patient's blood sugar and treat him properly. The patient said that he did not want to be transported and Chris told, "We care about you and we want to make sure you are okay before we leave". The patient described how this statement made him feel like a member of his family and he felt there was sincerity in both Chris' actions and words. Since this commendation, we have heard from two additional regional directors about calls that Chris had been on in their regions. In these cases, patients called to compliment Chris on his professionalism, compassion and competency. Chris brings this type of patient advocacy care to all the patients he is called to care for and displays a positive attitude with all the fellow caregivers."
Chris is now a flight medic with AIR 1 at the west base. Chris, thank you for all you do for UT Health EMS | AIR 1.
Pictured: L – Richard McFadden, Supervisor; R – Chris Fugate, July Caregiver