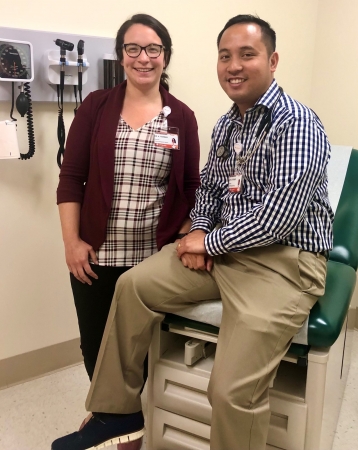 As more than 50 resident physicians started their training throughout East Texas this month, Dr. Christian Ferrer, a board-certified family medicine physician practicing in Quitman, offers a unique perspective on the experience these residents are embarking on as part of the growing residency program partnership between The University of Texas at Tyler Health Science Center and UT Health East Texas.
It wasn't so long ago that Ferrer arrived in East Texas himself as one of the Health Science Center's Family Medicine: Rural Medicine residents at UT Health Pittsburg. Remaining close to the community where he trained and staying involved with the residency program were key factors in Ferrer's decision to make East Texas home along with his wife, also a family medicine physician.
"I enjoy the community and I wanted to stay connected to the training facility and that's how we're here," Dr. Christian Ferrer said. "That's the whole reason we came back after residency, I wanted to have the support group and still be in touch with the university."
The Ferrers, both of whom practice at UT Health East Texas Physicians in Quitman, said they see a growing need for primary care providers in the community, which fits with their desire to help those who need it the most. Dr. Christian Ferrer is passionate about preventive healthcare and provides care to patients of all ages, including chronic care for geriatric patients. Dr. Amanda Ferrer also sees patients of all ages, including newborns, and is passionate about women's healthcare.
"My goal is to bring primary care to everyone in need and to offer a shared decision-making system between physician and patient," she said. "I want my patients to take an active role in their healthcare. Together, we are able to get them to their healthiest selves."
The Ferrers are an example of the goals driving the residency programs and The University of Texas at Tyler School of Medicine, expected to begin enrolling its first class in July 2023. Physicians often put down roots in the communities where they train, which will serve to expand access to and the breadth of care in East Texas.
"Our purpose is to care for our patients, their families and each other while educating and developing the caregivers of the future," said Julie Philley, MD, executive vice president for health affairs and vice provost at The University of Texas at Tyler. "Through our existing and expanding residency programs, as well as the new school of medicine, we look forward to a significant number of these residents remaining in East Texas after their training to grow our region's healthcare workforce."
The Ferrers say they are thrilled to be a part of what is an exciting time for the future healthcare in East Texas, and they believe the increased focus on healthcare in the community will create opportunities across the board. 
"It's going to increase healthcare access to everyone from East Texas," Dr. Christian Ferrer said.