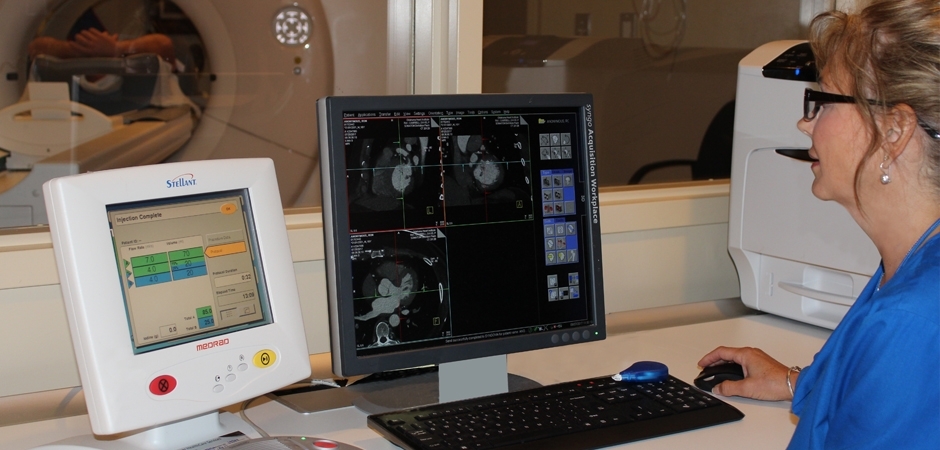 Detect heart disease early.
Heart disease is the No. 1 killer of Americans. However, most people don't know they have it until they have a heart attack or stroke. Low-dose CT (computerized tomography) calcium scoring can identify the early stages of heart disease in patients without symptoms.
What is a cardiac calcium score?
A cardiac calcium score indicates the amount of calcium in the coronary arteries of the heart.
A CT scan for coronary calcium is a non-invasive way of obtaining information about the presence, location and extent of calcified plaque in the coronary arteries. Plaque occurs when arteries are highly calcified, which causes arteries to become narrow. This plaque creates risk of developing blood clots and eventually blocking the arteries completely. When a coronary artery becomes blocked by a blood clot, the heart does not get enough blood supply and a heart attack will occur.
Why should I be tested?
The purpose of the cardiac calcium score is to determine if a patient is at high risk for a coronary artery disease (CAD), which can lead to a heart attack. The American Heart Association recommends this test for people over 40 years of age, with risk factors for heart disease.
In general, a high calcium score is associated with a higher risk of cardiovascular events, like heart attack and stroke. The lower the calcium score, the lower the risk.
Are you between the ages of 40 and 80 and have any of these risk factors?
High cholesterol
Family history of heart attacks
High blood pressure
Physical inactivity
Diabetes
Smoking
Obesity
Ask your doctor about CT calcium scoring - $79 could save your life.
CT calcium scoring is offered at these UT Health East Texas locations:
For more information and to schedule, talk to your primary care doctor. If you need a doctor, call 903-596-DOCS.