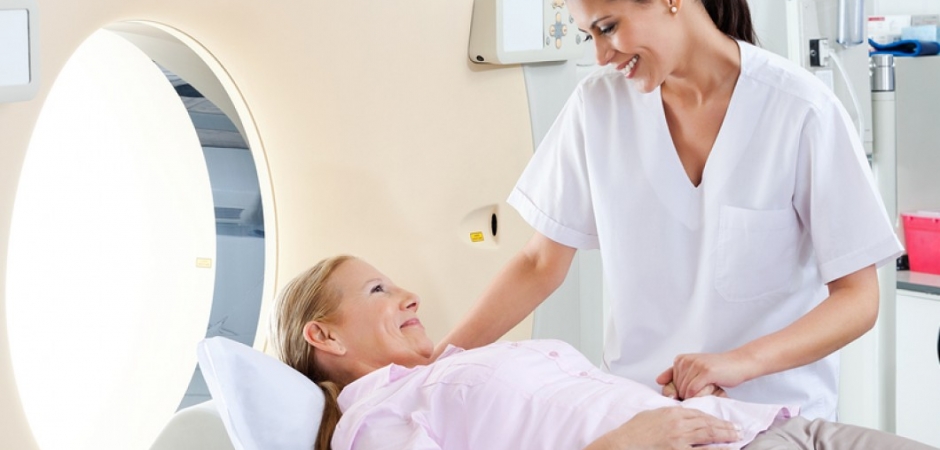 Detect heart disease early with cardiac imaging.
Heart disease is the No. 1 killer of Americans. However, most people don't know they have it until they have a heart attack or stroke. Low-dose CT (computerized tomography) calcium scoring can identify the early stages of heart disease in patients without symptoms.
The UT Health East Texas Heart and Vascular Institute is proud to offer the latest in diagnostic technology for heart problems, including:
Cardiac Catheterization: During a cardiac catheterization test, a small catheter is inserted through  an artery or vein and dye is injected into the heart to detect blockages and other heart problems. 
Cardiac CT imaging: Using enhanced X-Ray technology, a cardiac CT scan can be used to diagnose heart conditions, including aortic diseases, heart aneurysms, tumors and other structural abnormalities.
Cardiac MRI: Using MRI technology, this test is similar to a CT and gives detailed information about the heart structure and function.
CT calcium scoring: This scan shows the presence, location and extent of calcified plaque in the walls of the coronary arteries. Plaque buildup narrows the arteries, restricts blood flow to the heart and ultimately can lead to heart attack.
Echocardiography (3-D): This test uses sound waves to take photos of your heart. This allows us to learn more about the structure and function of your heart. It is a non-invasive procedure that takes about 30 minutes to complete.
Electrocardiography (ECG/EKG): This is a simple, five minute test that records a six second script of the electrical rhythm of your heart. 
Event and Holter Monitoring: This test may be ordered by your physician to look at your heart rhythm for longer than the EKG. It is commonly used to detect heart rhythm disturbances, palpitations or dizzy spells.
Nuclear Stress Testing: This is a hospital based procedure that can detect blood flow abnormalities to the heart. It is commonly ordered to diagnose coronary artery disease.
Stress Echocardiography: The stress echocardiogram uses sound waves to determine the structure and function of your heart during exercise.
Transesophageal Echocardiography (TEE): For further investigation about the structure and function of your heart, your doctor may order a TEE. As with the echocardiograms, this test uses sound waves to determine structure and function of your heart, but gives much clearer images of the heart chambers and valves. This is a hospital based test that does require sedation. Your cardiac care team will guide a probe down your throat to look at your heart.
Vascular Ultrasound: The vascular ultrasound uses sound wave imaging to look at your arteries to determine if there are any blood flow problems or blockages.
Why should I be tested?
The purpose of cardiac imaging is to determine if a patient is at high risk of heart diseases. Risk factors include the following:
High cholesterol
Family history of heart attacks
High blood pressure
Physical inactivity
Diabetes
Smoking
Obesity
If you're between the ages of 40 and 80 and have any of the mentioned risk factors, talk to your doctor about cardiac imaging. If you need a doctor, call 903-596-DOCS or click here.