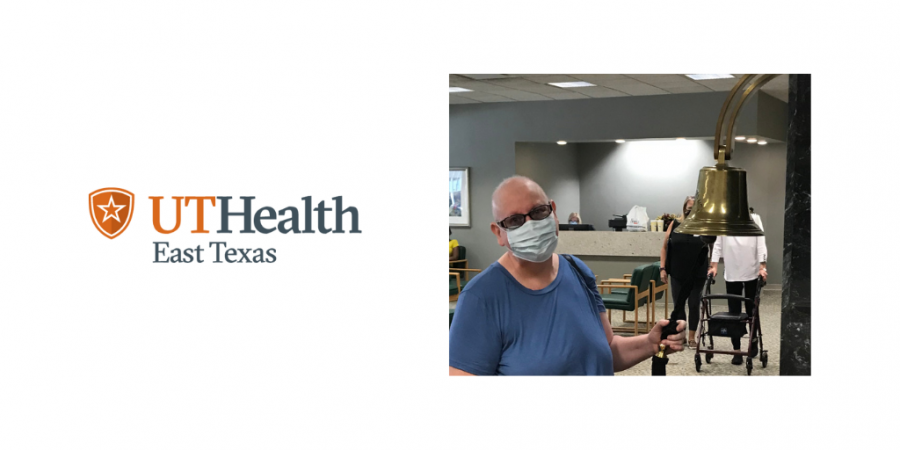 For most, a new year is the time for a fresh start. For Becky Spray, it was the start of her cancer journey.
Becky was adopted when she was three days old, so she didn't know anything about her family medical history. Because of that, she started performing regular self-breast exams weekly when she was in college. On Jan. 1, 2020, she felt a lump. After a visit to her doctor, she was referred to Dr. Brandon Ashton, board-certified diagnostic radiologist at the UT Health East Texas HOPE Breast Center for an ultrasound and biopsy.
"Dr. Ashton immediately knew there was a problem," Becky said. "That's never an easy thing to tell someone, and he was so kind and supportive."
The results showed Becky had grade 3 invasive ductal carcinoma. Her genetics test also said she was triple negative. This means that her cancer did not have any of the common breast cancer receptors, which made it harder to treat and gave her a higher chance of recurrence. She had a 93% growth rate, so her cancer was growing fast and was aggressive.
"It all happened so fast," Becky said. "I do my breast exams once a week. Most people do them once a month. I found a lump that wasn't there the week before, so it was growing quickly. By the time I had surgery, it had grown from 1.4 cm to 1.6 cm."
She was referred to Dr. Arielle Lee, board-certified oncologist at the UT Health East Texas HOPE Cancer Center, who worked with her to develop the best care plan.
She had a lumpectomy in February, resulting in clear margins. In March she started chemotherapy, followed by radiation. On Sept. 18 she rang the bell at the UT Health East Texas HOPE Cancer Center, marking the end of her treatment. Now, Becky goes in every six months for checkups. Ten months later in July 2021, she showed no evidence of recurrence.
"I rang the bell for my husband and my family," Becky said. "We rang the bell and celebrated. It felt good to be over, but it felt even better to hear from the doctor that so far there's no recurrence. For a triple-negative, there's a 70% chance of recurrence in the first five years, so I'm doing good. This is something I can't just ignore. I have to pay attention because it can come back so quickly."
Becky said her cancer diagnosis was a wake-up call for her to take better care of her health.
"As a result of going through chemo, radiation and dealing with cancer, I've lost almost 25 pounds and my blood sugar and blood pressure are under control," Becky said. "I'm physically healthier now than I was before cancer. I took it as a warning and clarion call to fight and get where I needed to be here for a while. I'm not going anywhere."
The hardest part of Becky's cancer journey was telling her kids.
"I'm an empty nester, but I had to tell them," Becky said. "Then they had to tell their kids. The hardest part was watching them worry about me. Everything else is all physical stuff. The side effects aren't fun, but I was very blessed because most of them were irritating, but not debilitating."
The best part was that she felt cared for by not only her family but her entire care team at the UT Health East Texas HOPE Cancer Center.
"It's a hard thing to go through every day, but they're so professional and caring that it made it bearable," Becky said. "They're amazing. It's a great group. I didn't have a bad experience. There are always frustrating things with insurance and whatnot, but they were all there for me, from Dr. Lee to the nurses, radiation team and even the phlebotomist. If you're going to go through something this awful, that type of team and support is the way to do it."
Becky said she recommends Dr. Lee to anyone she speaks to.
"Dr. Lee is like a cancer warrior," Becky said. "The woman is brilliant. She is no-nonsense. She is going to kill cancer and I love that. She was there every step of the way."
One of the biggest blessings Becky found through this was that she was able to track her birth family, learn about her family medical history and even meet her birth sister, who also was dealing with cancer.
"She knows and understands what's going on so there's an extra connection there," Becky said. "If you haven't walked through the cancer journey and fought that battle, you can sympathize but you can't empathize. My husband was amazing, but I knew he didn't really understand what was going on. He was dealing with his own battles and watching me go through this, not really being able to do anything. But my sister does understand because she was going through it too."
Though her cancer experience wasn't easy, Becky learned that she's stronger than she thought and offers this advice to anyone going through a similar experience:
"You can do it," Becky said. "There is hope, but there's no room for negativity. Check it at the door. That will kill you faster than cancer will. Know you're going in and you're going to beat it. Know you're going to be hereafter it's gone. Know that it can't stop you. You're stronger than you realize. It's going to be scary, but you're never alone. The HOPE Cancer Center is an amazing place and it really does inspire hope. At the darkest hour, they're there for you as a light."
To Becky, hope is knowing the challenges you face, but believing you can overcome them.
"Challenges don't have to define you, they can refine you," Becky said. "That's what I always say. It made me stronger, better, more loving and more empathetic to others."
When Becky first heard she had cancer, she said knew then that she was either supposed to learn something from this or use it to help someone else. Since then, she's encouraged her friends and family to do their self-breast exams and routine mammograms. Not long after Becky's diagnosis, one of her friends was diagnosed with a similar condition and said she wouldn't have gotten it checked out if Becky hadn't been so persistent.
"One in eight women get breast cancer," Becky said. "Of those eight, one in 15 get what I had. The odds are that you know someone who has it or who has had it. Part of hope is sharing what to do to catch it early so there can be even greater hope."
The UT Health East Texas HOPE Breast Center offers breast care services in Tyler and across East Texas. Don't wait. Visit UTHealthEastTexas.com/Mammogram to learn more or schedule online.