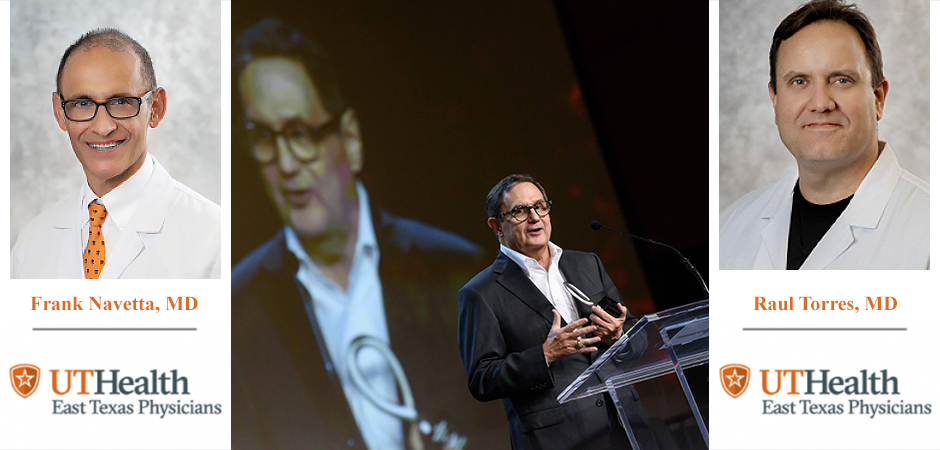 When John Gaston woke up that spring morning in 2015, something didn't feel right.
The 64-year-old was familiar with having shortness of breath because he had asthma his entire life. However, this shortness of breath, along with a lack of energy, was something new.
John called his primary care physician and was examined later that afternoon. His doctor said his heart rate was 180 beats a minute (normal is 60-100), so he asked him, "Can you drive yourself to UT Health East Texas or do you want to go by ambulance?"
"I can't go to the hospital," said John, "I've got a meeting in Dallas." His doctor said, "John, you can't go to Dallas. You have atrial fibrillation, so you have to go to the hospital now!"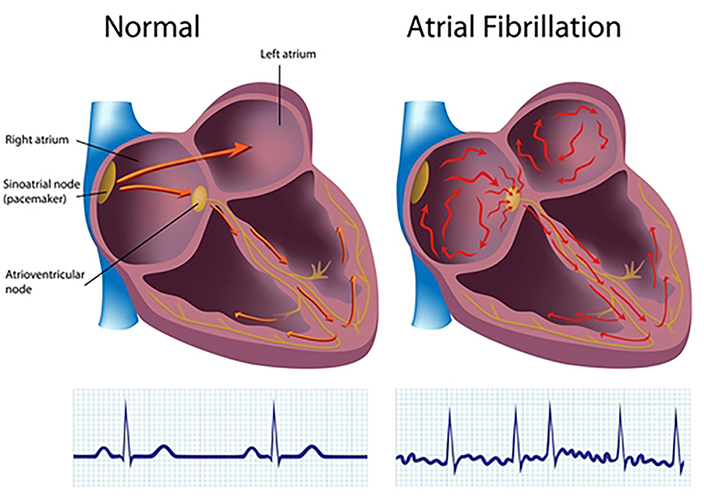 Atrial fibrillation (AFib)
AFib is an irregular heartbeat (arrhythmia) that can lead to blood clots, stroke, heart failure and even death.
People with AFib can experience some of the following symptoms:
General fatigue

Rapid and irregular heartbeat

Fluttering or "thumping" in the chest

Dizziness

Shortness of breath and anxiety

Chest pain or pressure
John drove to the hospital, but after parking his car, he had to stop and rest a couple of times before reaching the front door. He was immediately admitted, transported to the cardiac wing and given medications to lower his heart rate.
His heart rate continued to drop until just after midnight when the heart monitor alarms sounded. His heart had "flatlined" and was no longer beating.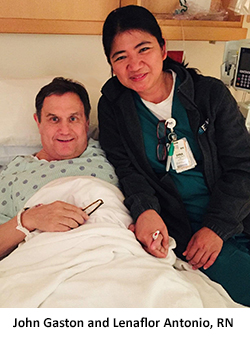 Nurse Lenaflor Antonio was just steps away from John's room and heard the monitor, so she rushed in, jumped onto the bed and began chest compressions. A team of caregivers followed with a crash cart, which contained everything the staff would need for cardiopulmonary resuscitation (CPR).
When John regained consciousness, he saw his room was filled with medical staff. "What's going on?" he said. "Are we having a party?" As he was transferred to a bed in the Cardiac Intensive Care Unit (ICU), John overheard one of the nurses say, "Thankfully, it just wasn't his time."
Treatments, devices and surgeries
Upon discharge from the hospital, John had to wear an external defibrillator vest for 90 days before an ICD (combined pacemaker/defibrillator) could be surgically installed near his heart. The device would regulate his heart rate to a normal sinus rhythm. The surgery, performed by electrophysiologist Raul Torres, MD, was successful, and he kept in close communication with John's cardiologist Frank Navetta, MD.
John and Dr. Navetta spent the next 12 months fine-tuning the dosage of his heart medications. He and his wife Jennifer also bought adjustable beds so that John could sleep at a 45-degree angle, which helped his breathing.
Fast forward to February 2021 when John woke one morning with difficulty breathing. He was later diagnosed with congestive heart failure, a condition when the heart muscle does not pump blood as well as it should. When this occurs, blood often backs up and fluid can build up in the lungs, causing shortness of breath.
After visiting Dr. Navetta, they discovered the battery in John's ICD had died unexpectedly, which explained the poor-performing heart muscle. A few days later he was given a new device and battery.
All was well until a few months later when John was at a breakfast meeting and started feeling lightheaded and dizzy. He passed out briefly during the meeting and then again at home. He was immediately driven to the ER where he passed out a few more times.
John's heart rate was in the 30s but he was still functioning. His doctors suspected there was a mechanical malfunction in his ICD, so John underwent emergency surgery. Cardiologist Ashish Gangasani, MD, successfully installed an external pacemaker until a permanent pacemaker could be implanted the next day. John spent the night in the ICU.
The next day, Dr. Torres visited John, looked at his chart, and said, "John, I don't see an expiration date stamped on you. Go out and live!"
Looking forward
John had a successful 40-year career in broadcast sales and management for local television stations. Now 72, he remains very active in the community and enjoys "an extremely rewarding career" as the President and CEO of the United Way of Smith County.
He is able to continue his work in the community due to the care and expertise of his doctors and the staff at the UT Health East Texas Heart and Vascular Institute.
"I cannot express how much I value the relationships and genuine concern shown by Drs. Navetta and Torres," John said.
"I am blessed beyond measure for the care I received. I am so grateful to all of the doctors, nurses, techs, friends and family that have been with me through this journey. Last, but not least, my wife has been an amazing partner, advocate and motivator. When all is said and done – they all saved my life!"
John doesn't take his good health for granted, so he has embarked on an enhanced fitness program to help strengthen his heart and entire body. He works out twice during the week with his trainer Alycia at the UT Health East Texas Olympic Center Tyler and then often on the weekends, accompanied by his wife.
He warms up on a treadmill and then focuses on weight training, core and balance exercises and ends with lots of stretching. Through it all, he doesn't even notice how his heart is working. "If I did not know I had a pacemaker and defibrillator, I wouldn't know."
He added: "Working out is key to staying on track with my health. You can't just depend on a device to keep you alive and healthy. Sometimes I will miss a workout and have to reschedule. But I feel better physically and mentally when I stay on track."
Finally, he has some thoughts for newly-diagnosed heart patients.
"When you experience AFib and heart failure, it's a wake-up call that no one wants. You ask yourself 'Is this the end?' I responded to this question by understanding that it's my job to take care of myself. I want to feel good. I want to live!"
If you are experiencing chest pains and some of the symptoms listed above, call 911 immediately. If you would like an appointment with a doctor at the UT Health East Texas Heart and Vascular Institute, go online to schedule an appointment or call us at (903) 596-DOCS.