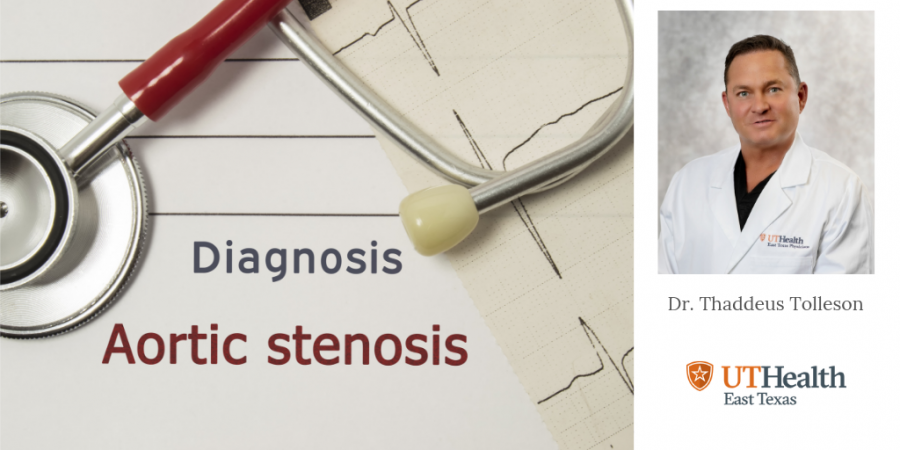 The health of your heart can be affected negatively by a number of factors, including birth defects, high blood pressure or simply aging. One issue that is caused by both birth defects and aging is aortic stenosis. Aortic stenosis is a narrowing of the aortic valve opening. This condition restricts the blood flow from the left ventricle to the aorta and may also affect the pressure in the left atrium. To correct this issue, surgery is the best option. However, over the past several years, a new, minimally invasive procedure, transcatheter aortic valve replacement (TAVR), has meant a major shift in treatment of this condition. To learn more about this procedure we talked to Dr. Thaddeus Tolleson, chief of cardiology at UT Health Tyler.
When surgery is needed for patients with aortic stenosis, there are two options: 1) traditional open heart surgery that replaces the valve and 2) the TAVR procedure, which does not remove the original valve. "If you have a valve replaced traditionally, you're going to have open heart surgery. They have to cut your sternum in half," Dr. Tolleson explains. "Most people are in the hospital five to seven days and then it's six weeks before they can drive or lift anything heavy. For TAVR, instead of splitting the patient's chest, we're going to make a half centimeter incision in the groin and we're going to put one stitch in it on the way out and that's going to be the only incision the patient has at all." Since your sternum doesn't need to heal, the recovery time is significantly shorter.
TAVR is still a fairly new procedure, having been performed commercially a little over three years ago, so not everyone is eligible for this option. Dr. Tolleson explains that only patients who are considered intermediate to high risk qualify. Part of qualifying is showing symptoms, which commonly include shortness of breath doing normal activities, getting fatigued easily and/or having chest pain.
After getting an examination from a family doctor, if a patient with a heart murmur is diagnosed with severe stenosis, they are referred to a cardiologist. "To receive TAVR, a patient has to be received in a comprehensive valve clinic, which means they're seen by an interventional cardiologist and a surgeon together. We sit down, the surgeons and cardiologists, and we examine the patient together. We review all their studies together and then everybody has to agree, based on the national criteria, that they are an appropriate patient for TAVR." Every Tuesday in Tyler, Dr. Tolleson and cardiologists are in this valve clinic to review patients.
The reason for the exclusion and process is that traditional surgery is still a great, effective option. "Surgery has been proven for so long to be effective," says Dr. Tolleson. "People who have had surgical valves implanted have been followed so we know how long they are supposed to last. Our data on how long these new valves last is limited. This is mainly because we've only been putting them in for seven or eight years."
New trial data on low risk patients is scheduled to be released soon, which could open up the procedure to nearly everyone. "It will be a complete paradigm shift in terms of how we treat aortic stenosis because then virtually everyone would qualify to have it treated with TAVR," says Dr. Tolleson. So even though over 140 procedures have been performed at UT Health Tyler over the past three years, Dr. Tolleson is looking forward to putting even more in the books. "If somebody would have told me 20 years ago that we would've been doing this," says Dr. Tolleson. "I would have thought it was science fiction."
Heart issues can be present even if you don't show any symptoms, which is why it's important to make regular appointments with your primary care physician. To find and make an appointment with a UT Health physician, call 903-596-DOCS.
Get the total picture of your heart's health by taking the MyHeart First screenings. MyHeart First offers seven screenings proven to most accurately detect heart disease and defects. Early detection of cardiovascular disease can help prevent future heart attacks and strokes. Call 903-531-8000 option 1 to schedule an appointment in Tyler. For Athens, call 903-676-2169. 
---
Thaddeus R. Tolleson, MD FACC FSCAI
Chief of Cardiology at UT Health Tyler
Research Director at Tyler Cardiovascular Consultants, PA