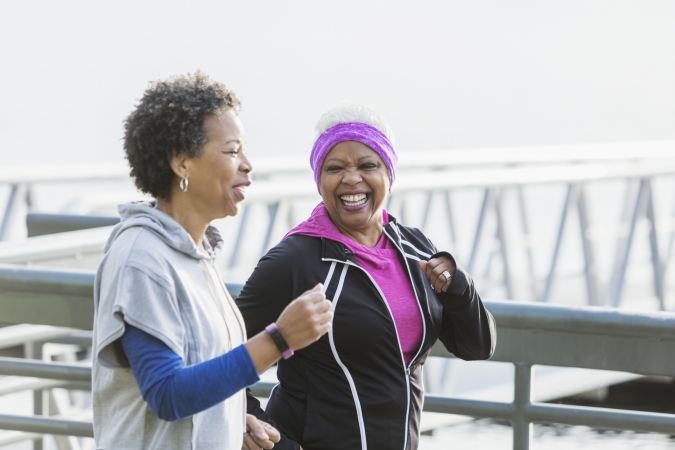 Stroke remains the leading cause of death among all Americans, with more than 795,000 people in the United States experiencing a stroke annually. Many risk factors of stroke can be treated, modified or controlled; however, some cannot.
These are called controllable vs. uncontrollable risk factors:
Controllable Risk Factors
High blood pressure
Smoking
Heart disease
High cholesterol
Alcohol
Obesity
Drug usage
Uncontrollable Risk Factors
Age
Gender
Race
Family history
Prior stroke or heart attack
During Minority Health Month, UT Health East Texas wants to raise awareness about specific health issues, including stroke, that affect minority populations differently. Recent studies1 suggest that certain populations still experience higher risks related to stroke:
African Americans' risk of experiencing a stroke is nearly two times higher than Caucasians.3
African Americans also have the highest death rate due to stroke.2
Smoking may double the risk for African Americans.4
Hispanic population death rates have been increasing since 2013.2
Knowing your specific risk factors can help prevent a stroke. If you believe yourself or a loved one may be experiencing a stroke, remember the B.E.F.A.S.T test:
B – Balance: sudden dizziness or loss of balance
E – Eyes: sudden trouble seeing out of one or both eyes
F – Face: facial weakness or drooping smile
A – Arms: weakness or inability to raise arms evenly
S – Speech: slurred or confused words
T – Time: CALL 9-1-1 IMMEDIATELY!
During a stroke, time is very important to treatment and recovery. Stroke outcomes are generally worse the longer treatment is delayed. If you suspect a stroke, do not wait; call 9-1-1 immediately!
Our primary care physician can evaluate your risk for stroke and discuss the ways to help manage your risk factors. To find a doctor or schedule an appointment, call 903-596-DOCS or schedule online.
About the Author
Lisa Hutchison, RN, MSN, SCRN, is the stroke coordinator and program director at UT Health Tyler. UT Health Tyler is certified by the Joint Commission as a comprehensive stroke center. Other UT Health East Texas stroke-certified locations include Athens, Henderson, Pittsburg and Quitman. These facilities are designated support, or level three, stroke centers. For more information about stroke care at UT Health East Texas, click here.
Sources
1. "Stroke Facts." Centers for Disease Control and Prevention, Centers for Disease Control and Prevention, 17 Mar. 2021, www.cdc.gov/stroke/facts.htm
2. "Underlying Cause of Death, 1999–2019." Centers for Disease Control and Prevention. CDC WONDER Online Database. Atlanta, GA: Centers for Disease Control and Prevention; 2019. Accessed March 30, 2021. https://wonder.cdc.gov/ucd-icd10.html
3. "Heart disease and stroke statistics—2020 update: a report from the American Heart Association." Virani SS, Alonso A, Benjamin EJ, Bittencourt MS, Callaway CW, Carson AP, et al. Circulation. 2020;141(9):e139–e596. https://www.ahajournals.org/doi/10.1161/CIR.0000000000000757
4. "Smoking may double stroke risk for African Americans." American Heart Association News, American Heart Association, June 10, 2020. www.heart.org/en/news/2020/06/10/smoking-may-double-stroke-risk-for-african-americans