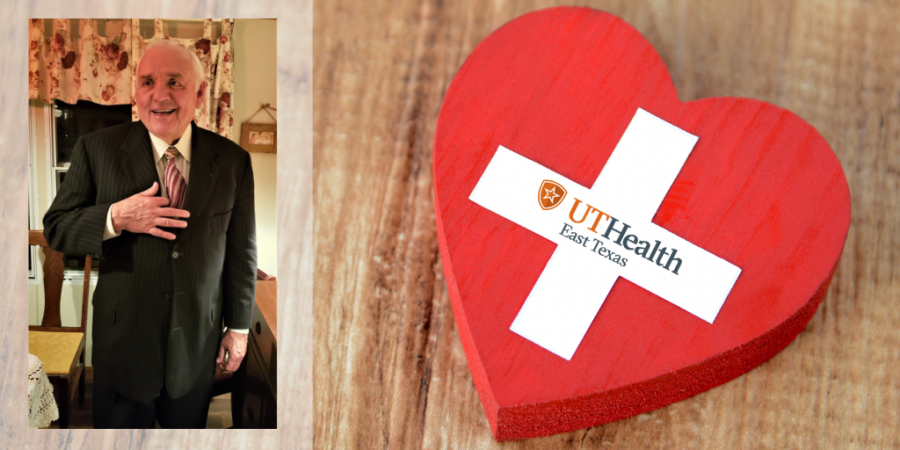 Last year, at age 68, Steve Skommesa and his wife, Susan, relocated to East Texas. They did all the normal things you do when you move like forward your mail, meet the neighbors and find the closest grocery store, but he also set up an appointment with his new UT Health primary care physician's assistant, Tony Jameson.
After doing a routine physical, Jameson saw that Steve's cholesterol level was a bit elevated and suggested a next step. "He asked if I had 150 dollars," Steve recalls. "Then he said I should take this test and it would give me a better idea of how my heart is doing." Jameson was suggesting that he do the MyHeart First program, which consists of seven screenings. Since Steve also had a family history of heart issues, Steve thought it couldn't hurt to give it a try.
"I went and took the test," said Steve. "And basically it saved my life."
The results from the Coronary Calcium Scoring test in the the MyHeart First screenings showed that he had an extremely high calcium score. This scan shows the presence, location and extent of calcified plaque in the walls of the coronary arteries. This plaque buildup narrows the arteries, restricts blood flow to the heart and ultimately can lead to heart attack. Cardiologist Aleksandr Korniyenko told Steve they needed to perform surgery to see the extent of the problem. "They would go in and check arteries and everything. It's basically in by eight, out by eleven," said Steve. However, after taking a look at Steve's heart function in the operating room, Dr. Korniyenko knew they weren't finished.
When Steve woke up at 11 o'clock, Dr. Korniyenko gave him the news. "I got you set up at six the next morning, he said. They're going to do open heart surgery," recalls Steve. During the Coronary Artery Bypass surgery that morning, Steve ended up needing five bypasses.
Up until this point Steve had never been to the hospital for any issue. He hadn't been feeling any pain and thought he was in pretty good health. This led him to ask Dr. Korniyenko how he could have been so bad off without knowing it.  "He shook his head," Steve said of the doctor. "A lot of it is hereditary. This is kind of my Achilles heel according to my DNA. He told me if I hadn't had this operation, even if I had a heart attack in a hospital, I wouldn't have been able to survive."
No
Steve wanted to share this story not only to thank those who helped him recover, but to also get the word out and motivate others to be proactive about their health. "I'm like brand new. I'm working and I feel good. My good cholesterol is where it's supposed to be, the bad cholesterol is as low as it can go. I changed a little bit of my diet and I dropped weight. I'm working like I was 45 years old again," says Steve. "In my case, the screenings saved my life, so I wholeheartedly encourage people to take it."
Learn more about MyHeart First here: https://uthealtheasttexas.com/myheart-first
To schedule a MyHeart First appointment at UT Health Tyler call 903-531-8000 option 1 or for an appointment at UT Health Athens call 903-676-2169