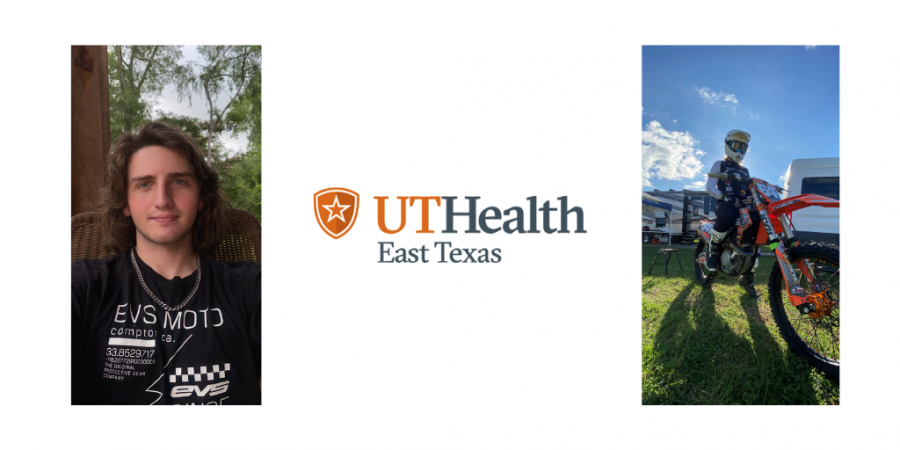 Doc Smith always knew the risks, but not much can deter the 20-year-old from competing as a professional motocross racer. When asked about his most recent injury, he seemed to shrug and said, "It comes with the territory."
Introduced to the sport by his dad at four years old, Doc said he didn't begin taking it seriously until he was about 15. "I always wanted to be professional, but I didn't begin putting in the effort until that time." Doc competed locally until he was about 16, but quickly advanced and has gone on to win a couple national titles.
Along with the wins, Doc has experienced his fair share of accidents during his racing career. "I'll have an insignificant crash about once every one or two weeks, if I'm really pushing myself. Bumps and bruises about every month, but a significant injury where I have to take a break from riding doesn't happen very often."
Despite the claim, Doc has undergone an impressive array of orthopedic surgeries already – a track record that has earned him familiarity with Dr. Joseph Conflitti at UT Health East Texas Orthopedic Institute. At eight years old he dislocated and broke the ball off his shoulder. In 2018 he broke both the ulna and radius in his wrist, and required getting plates put in. Then a week after being cleared by Dr. Conflitti, he re-fractured his ulna and had to get one of the plates replaced.
His most recent injury occurred in 2019 and involved his knee; however, not wanting to take time away from training he continued to push himself. "I knew if I took time away, everyone else would be improving. I just couldn't take that time away," he said.
However, after nearly a year and a half of racing on the injury, he began to notice the knee affecting his performance during races. "It just kept getting worse and worse, especially during those last five months. My meniscus would fall into the joint during races."
Professional motocross is highly competitive. In order to be considered a professionally licensed racer, competitors must earn 60 advancement points within a continuous 18-month period. With only around 40 racers competing within American Motorcyclist Association (AMA) Pro-Am Motocross races, and only half of those making it into the final rounds, mere seconds can mean the difference between a qualifying race or a trip home. Doc knew the smallest difference in his performance could cause the biggest difference in results. "I'm about to start racing on TV. You can't be at a deficit when you're looking for a half-second difference."
It was then he decided to visit Dr. Conflitti. "I enjoy when I'm about to take care of someone I've seen before," Dr. Conflitti said. "It's already a huge compliment that they trusted me with the surgery the first time, and then they come back and trust me to do a good job again. I think it's the ultimate compliment."
It was soon discovered that Doc would need surgery to repair his ACL and meniscus, and Dr. Conflitti performed another successful procedure. While the repair of the ligaments was a minimally invasive surgery, it would still require Doc to be non-weight bearing for six weeks. "If the patient is younger, we want to fix them and fix them sooner rather than waiting," Dr. Conflitti said. "In [Doc's] case, he's a very active young man and we want to get him back into his lifestyle. We want to get in and get him better and get him back to what he wants to do."
Doc is currently staying at his family home and says his focus remains on healing and regaining mobility. Only four weeks after surgery, he can already bend it 90 degrees. "It's such a big struggle for me to not walk right now, but I don't want to short Dr. Conflitti's work."
Once out of the brace, Doc will begin physical therapy and slowly work to regain the strength and flexibility needed to race again. The full recovery time is predicted to be six months, but Doc is willing to put in the work to ensure a good outcome after surgery. "I don't want anything less than perfect. I can't have anything less than perfect. That's why I go to Dr. Conflitti."
While Doc has already earned his AMA professional motocross license, he wants to gain his professional supercross license, as well. With the injury and recovery taking about a year of training away, Doc probably won't meet that goal this year, but he remains confident that he'll achieve it once he begins training again. "I'm not feeling pressure," he said. "With the racers' times being within seconds of each other, it'll be alright."
Despite the setback and the long recovery ahead of him, Doc still loves the sport and cannot wait to get back to racing. "I love this sport so much. It has my whole heart – it always has, it always will. Even if I'm in a wheelchair one day, I'll still love it."
The board-certified physicians at the UT Health East Texas Orthopedic Institute offer treatment and surgeries for most orthopedic issues, from joint replacements to traumatic injuries. For more information, visit UTHealthEastTexas.com/services/orthopedics.
This story was featured in the Aug./Sept. 2021 issue of TylerToday.