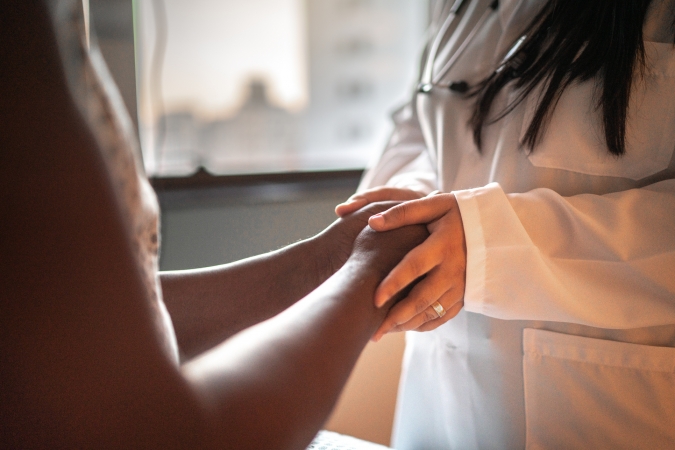 When a person is experiencing a stroke, receiving the best care quickly is essential in preventing lasting damage and providing the best chance for recovery. UT Health Tyler is designated a comprehensive stroke center by The Joint Commission. That means we offer the highest level of stroke care available, and we are able to treat the most complex stroke cases.
Some of the requirements for comprehensive stroke center certification include:
Availability of advanced imaging techniques, including magnetic resonance imaging (MRI), magnetic resonance angiography (MRA), computed tomography angiography (CTA), digital subtraction angiography (DSA) and transcranial Doppler (TCD)
Availability of personnel trained in vascular neurology, neurosurgery and endovascular procedures
24/7 availability of personnel, imaging, operating room and endovascular facilities
ICU/neuroscience ICU facilities and capabilities
Experience and expertise treating patients with large ischemic strokes, intracerebral hemorrhage and subarachnoid hemorrhage
On-site evaluation
Participate in stroke research
So what does all of this mean for you? Strokes require immediate, urgent care. Restoring blood flow to the brain is the beginning of the recovery process. As a comprehensive stroke center, UT Health Tyler has demonstrated our ability to quickly and effectively treat all types of strokes and give our patients the best opportunity for healing and recovery.
At UT Health Tyler, we have worked hard to bring together highly skilled and trained professionals and coupled them with the latest technology to provide the highest level of care to our patients experiencing a stroke.
In addition, a number of UT Health hospitals across the region – Athens, Henderson, Pittsburg and Quitman – are designated support or level III stroke centers. The emergency departments at these hospitals have met all guidelines for providing resuscitation, stabilization, assessment and treatment and have the ability to transfer the patient to UT Health Tyler, if a higher level of care is deemed necessary.
UT Health East Texas EMS also plays a role in the overall stroke care program within UT Health East Texas. Using state-of-the-art mobile technology, VizAI, stroke care can begin before the patient arrives at the hospital, and hospital personnel can be best prepared to continue treatment when the patient arrives.
After treatment, patients have access to rehabilitation services through the UT Health East Texas Rehabilitation Center in Tyler or at one of our outpatient rehabilitation facilities across the region.
Rapid treatment is key to a positive outcome. Knowing the signs and symptoms of stroke can help you seek care more quickly. BE FAST – watch for balance difficulties, eyesight changes, facial drooping, arm weakness, speech difficulty and time to call 911.
If you think you or someone you know is experiencing a stroke, call 911 immediately and ask to be taken to UT Health East Texas for treatment.
About the Author
Allison Hennigan, MD, is a board-certified neurologist and the stroke program medical director at UT Health Tyler. UT Health Tyler offers an award-winning stroke program and is designated a comprehensive stroke center by The Joint Commission.
You can learn more about the stroke care programs offered at UT Health East Texas by visiting our website or calling UT Health East Texas Neurological Institute at 903-594-2958.