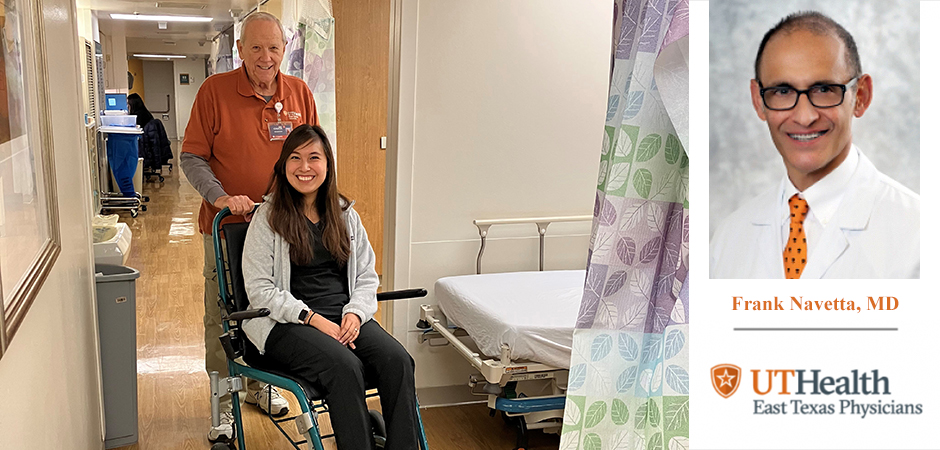 Chuck Winston finds joy in helping others.
The 85-year-old widow and resident of Ben Wheeler spends a couple of days each week volunteering his time in the pain management department at UT Health Tyler.
"I clean the beds, make the beds and roll people out to the main entrance when discharged," said Chuck. He also stays active by walking his 5-acre property, filled with lots of oak and elm trees.
"After storms roll in and the wind blows, I always find fallen limbs scattered on the ground, which I collect and burn," he said. "I stay pretty active and have never felt bad after any activities."
So when the retired computer technician visited his cardiologist, he was surprised to find out he would soon be a patient in the same facility where he volunteers.
Carotid artery surgery
MyHeart First
screening, a cardiac service of UT Health East Texas. The 7 screenings in 1 sitting have proven to detect heart disease and defects.
"When I went to the screening and got the results, they referred me to my cardiologist, Dr. Frank Navetta. I had been to him many times because he handled my bypass surgery years ago. Dr. Navetta took sonograms of my neck to verify the results from the MyHeart First screening. To our surprise, my carotid artery had a 90-95% blockage. Dr. Navetta couldn't believe I wasn't having any problems like dizziness or fatigue!"
Dr. Navetta referred Chuck to a vascular doctor who looked at all the tests and determined that the blockage couldn't be fixed with a stent. Chuck was then scheduled for carotid artery surgery in a few weeks.
A carotid endarterectomy is a surgical procedure to remove a build-up of fatty deposits (plaque), which can narrow a carotid artery. The carotid arteries are the main vessels that supply blood to the neck, face and brain.
During the surgery, the vascular surgeon first makes an incision in the side of the neck, accesses the carotid artery and sets up a bypass to keep blood flowing to the brain. They then cut open the carotid artery, clean it out and sew the artery back together. After the bypass to the brain is reversed, the area is sutured tight and the patient is sent to the recovery room.
Chuck later described the surgery to his friends as "a little roto-rooter action for my heart."
While spending those nights in the hospital, Chuck was under the care of day and night nurses Josie and Monet, whom he calls his 'guardian angels.' "They kept me alive for 2 days. They were awfully nice; I really liked them. The entire care I received was excellent!"
Vacations and volunteering
Now that Chuck has been cleared to return to regular activities, he wants to spend more time with his 3 children, 5 grandchildren and 7 great-grandchildren.
"I'm looking forward to spending Christmas with many of my family members in Kentucky before going to South Florida where my son lives," he said. "I'm even going to Miami for a Disney cruise with the rest of the family!"
But once he returns to East Texas, there will be those special days when Chuck gets dressed, heads out to get something to eat and then goes to the hospital to volunteer.
"Chuck started volunteering in 2009 and has accumulated nearly 4,000 hours of volunteer work," said Cassie Maschal, director of volunteers and patient logistics at UT Health Tyler.
"He currently serves in our Pain Management department assisting patients to their car after their procedure. He doesn't know a stranger and puts our guests at ease with his kindness, smile and great conversation. When COVID caused our volunteer program to be put on hold, Chuck couldn't wait to get back to helping the patients and staff. He certainly has a servant's heart."
"I just love to kid around with the patients and make them smile," Chuck said. "I really enjoy it."
If you would like to learn more about the MyHeart First screenings and our other cardiac services, visit our Cardiac Care web page. For information on volunteering opportunities at UT Health Tyler, visit our Get Involved web page.