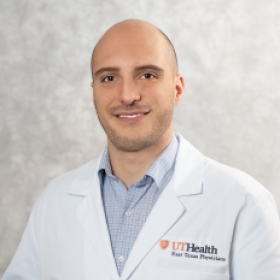 4.8 out of 5
Physician Group:
UT Health East Texas Physicians
Practices At:
Hours:
Monday - Friday
8 a.m. to 5 p.m.
Yury Ragoza, DO, is a family medicine physician, who practices at UT Health North Campus Tyler and UT Health East Texas Physicians in Lindale. "I got into healthcare because of my desire to help people by helping them heal. I really like the challenge of a difficult diagnosis and being able to be part of an important aspect of patients' lives."
Dr. Ragoza chose to practice family medicine because of the diversity that comes with it. "I like treating a variety of patients and conditions. My care philosophy is treating the patient as a whole, focusing on mind, body and spirit and taking into account the patient's wishes, cultural background and religious beliefs. I also incorporate osteopathic manipulations in my visits when appropriate."
He earned his bachelor's degree in biology from Texas A&M University in College Station and his degree in osteopathic medicine from the Texas College of Osteopathic Medicine in Fort Worth. He also completed his family medicine residency at The University of Texas Health Science Center at Tyler.
Dr. Ragoza is fluent in English, Hebrew and Russian. His personal interests include hiking, biking, kayaking and camping.

Education:
Family Medicine Residency: The University of Texas Health Science Center at Tyler, Tyler
Doctor of Osteopathic Medicine: Texas College of Osteopathic Medicine, Fort Worth
Bachelor of Science: Biology, Texas A&M University, College Station
American Academy of Family Physicians, Member
American Medical Association, Member
Texas Medical Association, Member
Smith County Medical Society, Member