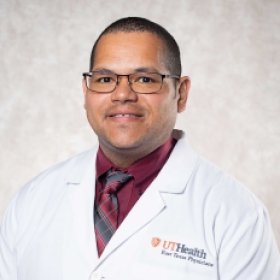 Practices At:
700 Olympic Plaza Cir.
Ste. 510
Hours:
Monday - Friday
7:30 a.m. - 5 p.m.

Tyrone Galbreath, DO, MHA, FACS, is a board-certified cardiothoracic surgeon, who believes in the Golden Rule of medicine and treating each patient as he would want to be treated.
Dr. Galbreath's special areas of medical interest involve applying minimally invasive techniques in heart and lung surgery. "The overarching goal is to provide durable and quality treatment at less recovery cost to patients" he said.
"The draw toward healthcare for me was the combination of challenge, using science to help others, and the reward of being able to participate in the healing of patients," he said. "I see healthcare as a field of unique relationships. Those relationships include those between patient and provider, as well as relationships between providers or the 'care team.' The result of cultivating durable and robust relationships in the healthcare setting allows us as a care team to provide the best possible care for the patients we have the privilege of caring for."
When not treating patients, Dr. Galbreath enjoys traveling, learning through reading, spending time with his family and dogs, being outdoors and everything related to aviation.
Board Certifications:
American College of Surgeons, Board Certification - General Surgery
American Board of Thoracic Surgery, Board Certification
Education:
Fellowship: Cardiothoracic Surgery, University of Mississippi Medical Center, Jackson
Residency: General Surgery, York Hospital, Pennsylvania
Internship: Surgery, Saint Joseph Hospital, Philadelphia, Penn.
Doctor of Osteopathic Medicine: Des Moines University - Osteopathic Medical Center, Iowa