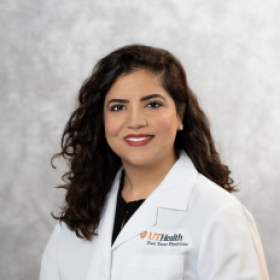 Physician Group:
UT Health East Texas Physicians
Dr. Shaadi Khademi is board-certified and specializes in occupational and environmental medicine. She currently serves as medical director of the occupational health clinic and director of employee health at UT Health North Campus Tyler.
Dr. Khademi joined the faculty in July 2017 as assistant professor after completing her training in the Occupational Medicine Residency Program at UT Health North Campus Tyler, where she served as the chief resident. She has a background in internal medicine and clinical research in dermatology.
Her special interests in medicine include occupational skin diseases, preventive medicine and patient education. She is also fluent in Spanish and Persian. Dr. Khademi enjoys resident teaching and is committed to ensuring the health of employees and their work environments.
FMSCSA-NRCME Certified Medical Examiner
MROCC Certified Medical Review Officer
NIOSH Immune, Infectious, and Dermal Diseases (IID) Prevention Program Council, Member
American College of Occupational and Environmental Medicine, Member
Texas Medical Association, Member
Smith County Medical Society, Member