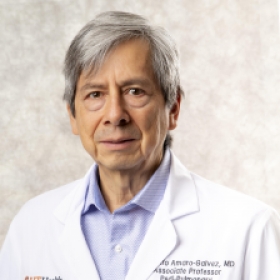 Specialty:
Pulmonology (Lung Disease) - Pediatric
Sleep Medicine
Physician Group:
UT Health East Texas Physicians
Practices At:
Hours:
Monday - Friday 
8 a.m. - 5 p.m.
Dr. Amaro specializes in pediatric pulmonology, the study and treatment of children's lung diseases. He has two decades of experience treating children with cystic fibrosis, pneumonia, whooping cough and other respiratory diseases. In addition, he is one of only a couple of board-certified specialists in pediatric sleep disorders in Northeast Texas.
Blogs Written by Dr. Amaro
Healthy Sleep for Back to School
Board Certifications:
American Board of Pediatrics, Pediatric Pulmonology, Board Certification
American Board of Pediatrics, Sleep Medicine, Board Certification