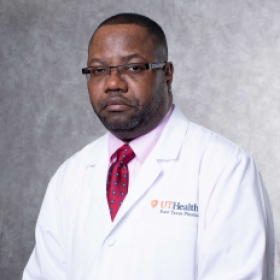 Physician Group:
UT Health East Texas Physicians

Ralph de Similien, MD, MS, M.Ed., MPH, is a board-certified psychiatrist at the UT Health East Texas Behavioral Center. Dr. de Similien provides mental health services and care for patients age 17 and older. "I became interested in medicine, specifically in psychiatry, at a very young age because those I saw in need of care did not have access to it. Growing up in Haiti, you were lucky to have access to a physician and even luckier to ever meet a psychiatrist."
Dr. de Similien's interests range broadly in the area of mental health. They include, but are not limited to, minority mental health; public, community and rural mental health; teaching; academic leadership and administration; mental health delivery in the young adult population and studying the negative impacts of the various social determinants of mental health on disenfranchised populations.
Dr. de Similien also speaks French and Haitian Creole and enjoys reading and writing.
Board Certifications:
American Board of Psychiatry and Neurology, Board Certification
Education:
Master of Public Health: Health and Social Behavior, Harvard University School of Public Health, Boston, Mass. 
Fellowship: Public and Community Psychiatry, Yale University, New Haven, Conn.
Residency: General Psychiatry, Howard University Hospital, Washington
Doctor of Medicine: Wayne State University, Detroit
Master of Science: Wayne State University, Detroit
Master of Eduation: The University of Illinois at Chicago
Bachelor of Arts: Economics, The University of Iowa, Iowa City, Iowa
American Board of Psychiatry and Neurology, Diplomate
American Academy of Addiction Psychiatry, Member
American Association of Psychiatric Administrators, Member
American Psychiatric Association, Member
American Association of Community Psychiatrists, Member