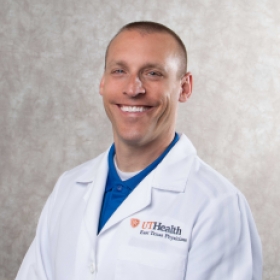 4.6 out of 5
Physician Group:
UT Health East Texas Physicians
Practices At:
Hours:
Mon. – Fri.
8 a.m. – 5 p.m.
R. Michael Galbraith, DO, is a board-certified family medicine physician who specializes in primary care and sports medicine physician at UT Health East Texas Physicians on Patriot Drive in Tyler. As a primary care and sports medicine physician, Dr. Galbraith specializes in treating non-surgical musculoskeletal and orthopedic injuries. He collaborates with orthopedic surgeons, physical therapists and other healthcare providers. Dr. Galbraith also works closely with many sports teams to provide care for athletes during sporting events. He treats a wide variety of acute and chronic injuries such as sprains, strains, concussions, arthritis and fractures that do not require surgery.
"I enjoy the cooperative nature of sports medicine and the opportunity to work closely with other healthcare providers to help patients recover from their injuries. My goal is to empower, educate and bring hope to others by optimizing health and performance through a progressive, collaborative approach," Dr. Galbraith said.
Dr. Galbraith sees patients of all ages and enjoys spending time with his family, mountain biking, snow skiing, backpacking, snorkeling, serving in church and watching Notre Dame football.

Board Certifications:
American Board of Family Physicians, Board Certification
Education:
Fellowship: Primary Care and Sports Medicine, University of Notre Dame, South Bend, Ind.
Residency: Family Medicine, Memorial Hospital, South Bend, Ind.
Doctor of Osteopathic Medicine: Midwestern University/Arizona College of Osteopathic Medicine, Glendale 
Bachelor of Science: Exercise Science, Brigham Young University, Provo, Utah
The College of Family Physicians of Canada, Sport and Exercise Medicine Certification
Canadian Academy of Sport and Exercise Medicine, Diplomate of Sport Medicine
Canadian Osteopathic Association, Member
The College of Family Physicians of Canada, Board Certified
American Medical Society for Sports Medicine, Member
American Osteopathic Association, Member
American Academy of Family Physician, Member