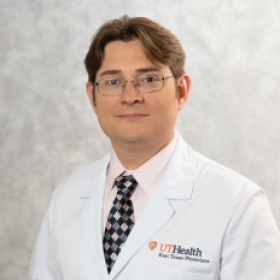 Specialty:
Plastic surgery
Reconstructive Surgery
Hand Surgery
Physician Group:
UT Health East Texas Physicians
Paul Critelli, MD, is a board-certified plastic and reconstructive surgeon, who performs both cosmetic and reconstructive procedures of the face, body and hands. He believes communication is the key to a good doctor-patient relationship and encourages the patient's participation in his or her care. "I enjoy doing cases that make an impact in the quality of people's lives. Whether it be restoring a patient's image after breast cancer or building a patient's self-confidence with body contouring."
Working as a general surgeon for five years in Dallas is what increased his interest in helping patients achieve their desired form, function and aesthetics. "When most surgeons operate, they remove a disease like cancer. Plastic surgeons have the unique job of putting the puzzle back together, as in facial and hand trauma, or they create and sculpt the body using your own tissues or implants, as is the case with breast reconstruction or body contouring."
Dr. Critelli earned his bachelor's degree from Texas A&M University in College Station, his graduate certificate in biomedical science from the University of North Texas Health Science Center in Fort Worth and his medical degree from the University of Texas Medical School at Houston. He also completed his general surgery residency at the Methodist Health System in Dallas and his plastic surgery fellowship at the University of Texas at Houston.
His personal interests include skiing, volleyball, golfing, biking and swimming.
Aesthetics Services:
Face, Brow lift, Blepharoplasty - Eyelids, Facelift, Rhinoplasty, Implants - Chin, cheek, lips, fillers & fat grafting
Breast, Augmentation - Silicone, saline, fat grafting, Implant exchange or removal, Mastopexy - Breast lift with or without augmentation
Body, Body contouring with liposuction, Brazilian Butt Lift - Liposuction with butt augmentation with fat grafting, Abdominoplasty - Tummy tuck, Brachioplasty - Arm lift, Thigh lift
Reconstructive Services:
Face, Skin lesion resection and reconstruction, Eyelid ptosis - Droopy eyelids, Facial nerve injury, Facial trauma and lacerations
Breast, Breast reconstruction - Implant-based or Autologous, Breast reduction, Gynecomastia, Tuberous breast deformity
Body, Body contouring after massive weight loss, Complex wound coverage, Soft tissue mass excision, Abdominal hernias
Hand, Traumatic injuries - Laceration of tendons and nerves, fractures and complex soft tissue loss, Carpal and cubital tunnel syndromes, Cysts and masses, Congenital hand anomalies, Dupuytren's Disease, Arthritis, Infections
Lower Extremity, Complex soft tissue coverage of wounds
Board Certifications:
American Board of Plastic Surgery-Plastic and Reconstructive Surgery, Board Certification
Education:
Fellowship: Plastic Surgery, University of Texas at Houston, Houston
Residency: General Surgery, Methodist Health System, Dallas
Doctor of Medicine: University of Texas Medical School at Houston, Houston
Graduate School: University of North Texas Health Science Center, Fort Worth
Bachelor of Science: Texas A&M University, College Station
American Society of Plastic Surgeons, Member
Texas Society of Plastic Surgeons, Member
Texas Medical Association, Member