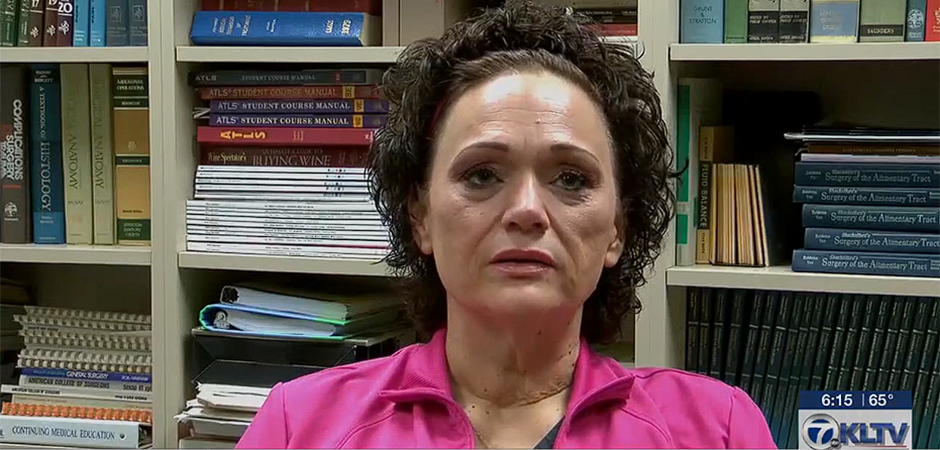 By Avery Niles
Published:& Oct. 16, 2023 at 12:46 PM CDT
ATHENS, Texas (KLTV) - Roughly one out of eight women in the U.S. will develop invasive breast cancer in the course of their life.
Melisa Collum was working at the UT Health Athens hospital as a registered nurse when she felt a lump in her left breast.
"We were up on the floor one day and my PCP happened to be up there, Dr. Swartwood, and some of the nurse's kind of let the cat out of the bag. So he made me come see him that day, and sure enough he sent me over to the breast center and I had multiple masses," Collum said.
Collum was diagnosed with an aggressive form of breast cancer called HER2+. She immediately started chemotherapy treatments.
"After my first treatment I didn't have my port in yet. I was up on the floor and Dr Doorman happened to be up there doing rounds and I grabbed him and kind of pulled him to the side and told him what was going on. He and I had a really long talk that day. Within two weeks, he had my port in," Collum said.
After six rounds of chemo and 12 rounds of Herceptin, general surgeon Dr. Doorman and plastic surgeon Dr. Critelli preformed a bilateral mastectomy with reconstruction.
"And when Dr. Doorman called me with my pathologies back from my sentinel nodes, it was the best day," Collum said.
At a follow-up appointment after surgery, Collum saw there was no nurse at the office.
"And as we were walking out, the office manager said, 'are you looking for a job?' and I was like 'no I work at the hospital' and we just laughed it off. And a few days later is when Dr. Doorman called me," Collum said.
She is now the registered nurse at the office and a nurse navigator for Patients'd. Robert Doorman said Collum is able to connect with patients in a special way.
"She'll spend hours on the phone with them, and she will laugh with them, and she will cry with them, and she will be there to hold their hands even when they are in appointments outside of this office," Doorman said.
Collum said her own cancer journey has led her to where she needs to be.
"I think they trust me because they know what I've been through," Collum said.
Copyright 2023 KLTV. All rights reserved. Original Source can he found here.