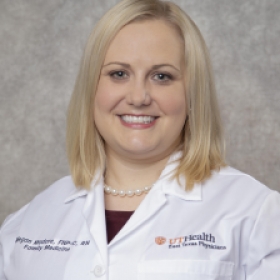 Schedule Online
Review Score:

Physician Group:
UT Health East Texas Physicians
Practices At:
Hours:
Monday - Friday
8 a.m. - 6 p.m.
Megan Madore is a certified family nurse practitioner who practices at UT Health East Texas Physicians at Lake Palestine in Flint. "Being a family nurse practitioner allows me to build patient relationships, care for families across their lifespans and promote health and wellness. Prevention is one of my favorite aspects of family practice."
Choosing to pursue a career as a family nurse practitioner was an easy decision for Madore, as both of her parents are nurses. "I was always interested in healthcare. I saw firsthand that healthcare was a rewarding and important career path with a lot of opportunity to impact the lives of others."
Her specific areas of medical interest are women's health, pediatrics, health promotion and general wellness. In her free time, she enjoys tennis, reading, exercising, traveling and cooking.
Board Certifications:
American Academy of Nurse Practitioners, Certifed Family Nurse Practitioner
Education:
Master of Science: Nursing, The University of Texas at Arlington
Bachelor of Science: Nursing, California State University San Marcos
Bachelor of Science: Health Science Studies, Boise State University, Boise, Idaho