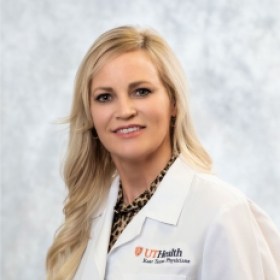 Physician Group:
UT Health East Texas Physicians
Practices At:
700 Olympic Plaza
Ste. 904
Hours:
Monday - Thursday
8:00 a.m. - 5:00 p.m.
Friday
8:00 a.m. - noon
Loretta Wilson is a board-certified family nurse practitioner at the UT Health East Texas Neurological Institute, where she draws on her experience as a surgical nurse to assist in deep brain stimulation (DBS) procedures. "It's one of the few surgeries in which you know what the results are going to be before the patient leaves the operating room, and they know too, because they are awake."
DBS involves surgically implanting electrodes in the brain and threading an insulated wire into the abdomen or chest wall where neurostimulators, similar to cardiac pacemakers, are implanted to stimulate the brain. The neurostimulators can be adjusted without further surgery to give the precise stimulatioin needed. "We maintain tremor control by adjusting the stimulation at each office visit."
Board Certifications:
American Association of Nurse Practitioners, Certification
Texas State Board of Nursing, Certification
Advanced Life Support, Certification
Chemo Administration, Certification
X-Ray Technician, Certification
Education:
Master of Science: Nursing, The University of Texas at Tyler
Bachelor of Science: Nursing, University of Phoenix, Ariz.
Associate of Science: Nursing, Trinity Valley Community College, Athens