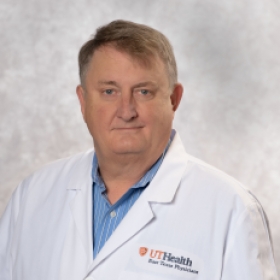 4.3 out of 5
Physician Group:
UT Health East Texas Physicians
Practices At:
Hours:
Monday - Friday 7 a.m. - 5 p.m.
*Age Range: Six months and up
Gary D. Babbitt, MD, is a board-certified family medicine physician at UT Health East Texas Physicians in Quitman. "I work to build lasting relationships with my patients and have cared for many of them for years. When you take care of people for such a long time, they are like family."
Dr. Babbitt's focus is on family, both personally and professionally. "Activities and hobbies in my free time always involve my family first. I think that if you have a good relationship with your family, then you're able to form bonds more easily with your patients."
"I think UT Health East Texas is very family oriented. They work together as a team and take good care of their people and their patients," he said.
Board Certifications:
American Board of Family Physicians, Board Certification
Education:
Chief Family Practice Resident: Scott Air Force Base, Belleville, Ill.
Internship: Scott Air Force Base, Belleville, Ill.
Doctor of Medicine: University of Texas Medical School, San Antonio
Bachelor of Science: Tarleton State University, Stephenville, Texas
American Association of Family Phyicians, Member
Advanced Cardiac Life Support, Certification