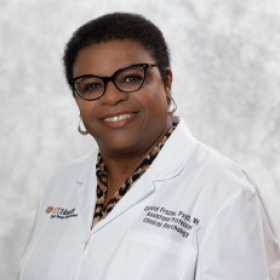 Physician Group:
UT Health East Texas Physicians
Practices At:
Hours:
CVICU
10 a.m. - 12 p.m.
4 p.m. - 6 p.m.
8 p.m. - 9 p.m.
2WB, 3WB and 3WC ICUs
10 a.m. - 6 p.m.
8 p.m. - 6 a.m.
Closed 6 a.m. - 10 a.m. & 6 p.m. - 8 p.m. for personal care
General visiting hours
6 a.m. - 9 p.m.
Dr. Crystal Frazier is a doctoral level trained Licensed Psychologist with extensive education in clinical psychology. She is an assistant professor in the Department of Psychiatry and Behavioral Medicine and a member of the doctoral psychology internship program training committee. Dr. Frazier has managed her own psychological services practice where she provided care to older adolescents, and adults. She has a special interest in caring for patients struggling with anxiety, depression, and trauma related symptoms. She is passionate about helping clients complete the often very challenging therapeutic work and helping them achieve their goals for positive life changes. Patients can see Dr. Frazier by appointment in our Adult Psychiatry Clinic at North Campus Tyler.