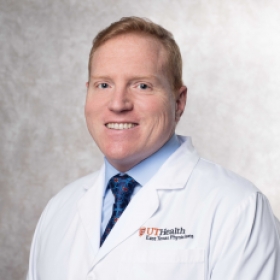 Specialty:
Physical Medicine & Rehabilitation
Rehabilitation Medicine
Physician Group:
UT Health East Texas Physicians
Practices At:
701 Olympic Plaza Circle
2nd Floor
Hours:
Wednesday
1 p.m. - 3 p.m.

Christopher Duncan, MD, is a board-certified physical medicine and rehabilitation physician. He serves as medical director for the UT Health East Texas Rehabilitation Center in Tyler. Dr. Duncan specializes in treating amputation, stroke, traumatic brain injury, polytrauma, critical illness, nerve injuries, pain, spasticity, burns and neurologic tumors.
"As a rehabilitation specialist, I have helped thousands of people with life-changing neurologic injuries and other illnesses adapt and overcome. Seeing those success stories has been and will continue to be tremendously rewarding. I am intensely curious about neuroscience, recent developments in medical treatment and deploying medical, technological and therapeutic resources that tangibly help people and their communities," Dr. Duncan said.
The desire to work with patients in meaningful ways and to help translate scientific breakthroughs into positive changes in individual lives motivated Dr. Duncan to choose a career in healthcare.
 "I want every patient that I see to be the best possible version of themselves. Recovery after trauma, severe illness or injury is a highly individualized process requiring a partnership with a patient to leverage state-of-the-art medication, therapy and lifestyle changes to achieve best possible function. Each individual patient's goals lay at the heart of this process and directly influence outcomes and success," he said. "My role in this process is to know the medical and scientific landscape like the back of my hand and help patients make choices to navigate that difficult journey. Further, it is often my responsibility to educate, inform and motivate people to successful outcomes, which were once difficult to imagine. Lastly, I believe in communicating with patients and their families compassionately and at all levels of complexity so that we can develop a shared recovery plan."
When not at the hospital, Dr. Duncan likes being outdoors biking or fishing with his family. He enjoys writing music as well. He is fluent in English and Russian.
Board Certifications:
American Board of Physical Medicine and Rehabilitation, Board Certification
Education:
Residency/Chief Resident: Physical Medicine and Rehabilitation, University of Utah, Salt Lake City
Internship: Riverside Regional Medical Center, Newport News, Vir.
Doctor of Medicine: Virginia Commonwealth University School of Medicine, Richmond
Bachelor of Arts: Russian Language and Literature, Brigham Young University, Provo, Utah
American Academy of Physical Medicine and Rehabilitation, Member
Association of Academic Physiatrists, Member
University of Utah Physical Medicine and Rehabilitation Teacher of the Year Award, Recipient