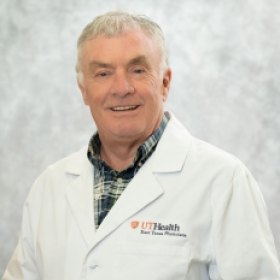 Schedule Online
Review Score:

Physician Group:
UT Health East Texas Physicians
Practices At:
Hours:
Monday - Friday
8 a.m. - 5 p.m.
Walk-ins Welcome!
*Age Range: Newborn and up
Family medicine physician Blair MacBeath, MD, is no stranger to the people of Pittsburg. He has practiced for more than three decades in the community; first as an independent provider, and more recently as a part of UT Health East Texas Physicians. He says joining UT Health has allowed him to concentrate more on patients and less on paperwork.
Relationships are at the heart of Dr. MacBeath's practice. His patients know him on a first-name basis and he knows a lot of people in town.
Throughout his career, he has noticed a change in the perspective of his patients. "People are more focused on health than disease now. When I graduated, it was totally about disease management. Now it's evolved into health management. It's a good thing."
Education:
Doctor of Medicine: Dalhousie University, Halifax, Nova Scotia, Canada
Bachelor of Science: Dalhousie University, Halifax, Nova Scotia, Canada
Advanced Cardiac Life Support, Certification
Advanced Trauma Life Support, Certification
Patients' Choice Award
On-Time Doctor Award
Compassionate Doctor Recognition