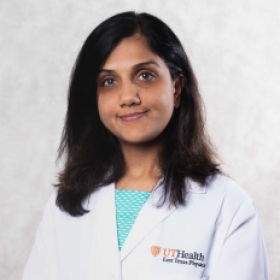 Specialty:
Oncology, Hematology
Cancer Care
Physician Group:
UT Health East Texas Hope Cancer Center
Practices At:
11937 US Hwy 271
Building G
Hours:
Monday - Friday
8 a.m. - 5 p.m.
Archana Chidambaram, MD, PhD, is a hematologist and oncologist at UT Health East Texas HOPE Cancer Center in Tyler. Dr. Chidambaram was drawn to medicine at an early age. "When I was a child, I wanted to know exactly how worried I should be when my loved ones fell sick. Not having a physician around to explain and clarify things felt frustrating.
"I chose hematology and oncology because cancer cells have always fascinated me. I learned about cell division in ninth grade. It blew my mind to imagine that a tiny cell could represent the harmonious orchestration of intricate, synchronized processes that determine how we look, think, behave and function," she said.
"That led to a pursuit of learning more about cell biology, how normal cells functioned and how cancer cells malfunctioned. I am very passionate about my specialty and express that to my patients. My goal is always to ensure that my patients and their families to have an understanding and insight into their diagnosis and treatment options."
In addition to English, Dr. Chidambaram speaks Hindi, Tamil and Marathi. She enjoys spending time with her dog, Trooper, reading, running, cooking, playing board games, painting and playing musical instruments.
Board Certifications:
American Board of Medical Oncology, Board Certification
American Board of Hematology, Board Certification
American Board of Internal Medicine, Board Certification
Education:
Fellowship: Hematology and Oncology, Rosewell Park Cancer Institute, Buffalo, N.Y.
Residency: Internal Medicine, Cooper University Hospital, Camden, N.J.
Doctor of Philosophy: Anatomy and Neurobiology, Virginia Commonwealth University, Richmond
Bachelor of Medicine and Bachelor of Surgery: Seth G.S. Medical College and King Edward Memorial Hospital, University of Mumbai, Mumbai, India
American Society of Clinical Oncology, Member
American Society of Hematology, Member
American College of Physicians, Member
American Association for Cancer Research, Member