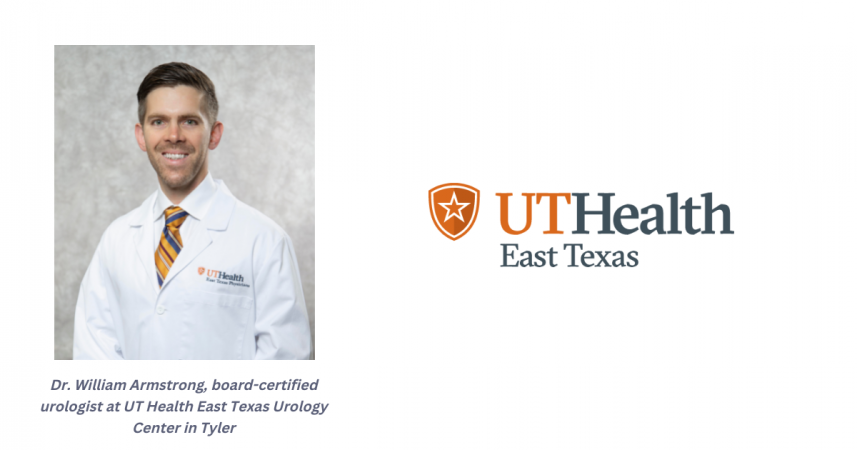 By G. Todd Hill, CEO UT Health East Texas Physicians
The recognition last month of Prostate Cancer Month got me thinking about my own exposure to prostate cancer through watching three generations on my father's side deal with it.
The second and third generation (my grandfather and my father and uncles) received early diagnosis and were success stories. I did get to see the benefit of PSA surveillance and even saw the progression of surgical methods from open to laparoscopic methods. The recovery for the open surgery was grueling and had many issues from surgery that could be long-lasting. The laparoscopic was better but not close to the current robotic results. (The timeframe for my experience was late 70's, early 90's and early 2000's.)
As someone who has seen life lengthened by early detection, I strongly recommend following national urological guidelines for early detection. I have asked William Armstrong, MD – Urology, Clinical Associate Professor of Surgery, to share his wisdom on prostate cancer.
Advice from Dr. William Armstrong, board-certified urologist at UT Health East Texas Urology Center in Tyler:
Prostate cancer is diagnosed in roughly 1 in 8 men in their lifetime, and this is not just an older man's disease. Up to 40% of cases occur in men younger than age 65. Historically, men were treated too aggressively for low-risk prostate cancer, and as urologists we have taken ownership of that problem. Research from the last two decades has made great strides in establishing who should be screened, who should be treated, and who should NOT be treated. With newer and more sensitive screening methods, more accurate imaging and diagnostic tools, and minimally invasive treatment options including robotic surgery, we have more well-defined management pathways and better treatment options than ever before. And with advances in systemic hormonal and immunotherapies, even advanced prostate cancer has never been more treatable. But just as the last 20 years have seen an explosion of new technology and prostate cancer research, the next few decades are likely to see even greater steps forward.
Prostate cancer is a major focus of my practice, and I'm excited about the direction prostate cancer treatment is headed, but the best way to treat it is by catching it early, so despite all the advances, prostate cancer screening remains absolutely critical.
So what should the men out there know? If you're a man between ages 50 and 69, or younger/older with risk factors, then know your PSA. This blood test is still the best way to determine if prostate cancer may be present. Several factors can affect PSA levels, so it's important to follow your PSA over time. For yourself and for the other men in your life, please ask your doctor or a urologist about prostate cancer screening.